Parliamentarians from Eastern Europe and Central Asia join forces to reduce barriers against women's participation in public life
Around 90 parliamentarians, local elected officials and civil society representatives from 11 countries in Eastern Europe and Central Asia gathered in Chișinău to identify how to solve some of the most pressing issues challenging women's rights and their full participation in all spheres of life. They agreed on the need for urgent action to eliminate discrimination and violence against women and improve legislation to fully promote equality between women and men, boys and girls.
Date: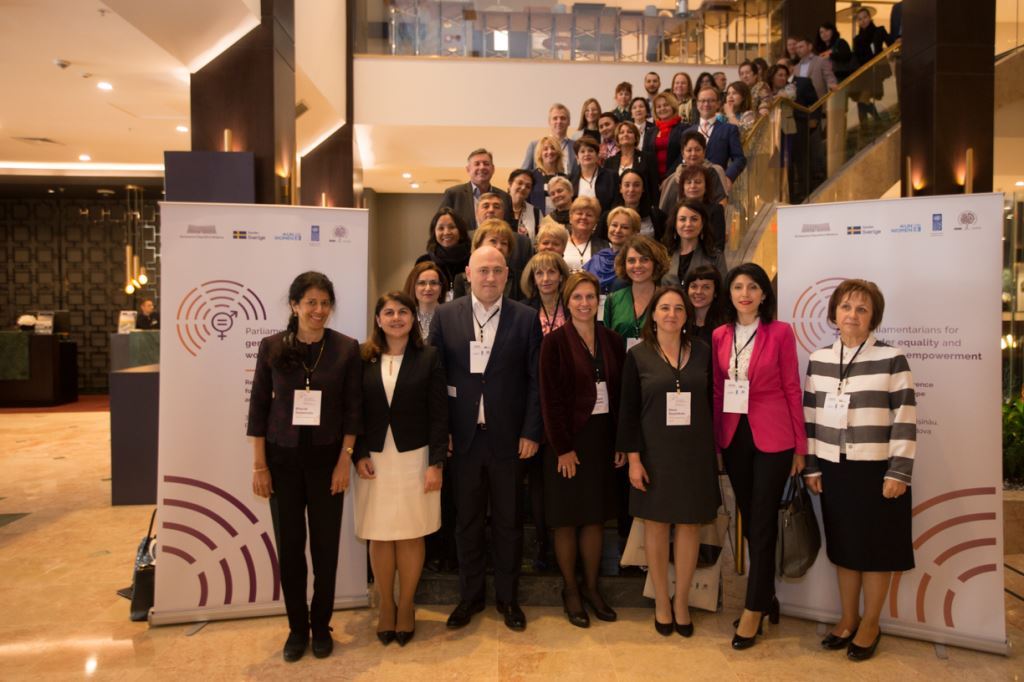 United Nations Development Programme (UNDP), the United Nations Entity for Gender Equality and the Empowerment of Women (UN Women) and the OSCE Office for Democratic Institutions and Human Rights (ODIHR) organized the 2-day regional conference with support from the Parliament of the Republic of Moldova and in partnership with the Government of Sweden.
The conference provides a forum for exchanging good practices on promoting women's participation in politics and developing policies that take into account the specific experiences and needs of women and men.
"We hope this event will open up new channels for cooperation between countries in the region. We believe there is great potential to learn from each other and take joint action. Last year the Parliament of Moldova made a big step in the right direction by adopting a 40 percent gender quota on political party lists," said Vladimir Vitiuc, Deputy Speaker of the Parliament of the Republic of Moldova.
For many years, UNDP, UN Women and OSCE-ODIHR, in collaboration with their partners, have promoted women's rights and empowerment, including in the political arena, across Eastern Europe and Central Asia. But the region is still facing persistent and emerging challenges in achieving gender equality.
Despite some success, there has been limited progress on increasing women's participation in parliament and in passing legislation that effectively advances gender equality and women's empowerment in Eastern Europe and Central Asia. Women only make about 20 percent of members of parliament, while their representation in local elected office remains equally low, with just 15 percent women mayors across the region. Increasing these numbers is key for countries to achieve progress on their Sustainable Development commitments by 2030.
"This Regional Conference provides a great and unique opportunity to exchange experiences and good practices on a very important subject - how Parliaments can carry out their representative, legislative and oversight functions in a way that truly and effectively advances gender equality," said Signe Burgstaller, Ambassador of Sweden to the Republic of Moldova.
"Parliaments need to respond to demands of women coalitions, as these coalitions are often the voice of traditionally under-represented groups," said Marcin Walecki, Head of Democratization Department at ODIHR.
Effective policies are urgently needed to address gender inequalities in all spheres of life, including in employment, unpaid care and domestic work, security and peacebuilding, and migration, and to address persistent violations of women's human rights such as taking urgent action to eradicate gender-based violence.
"We are at the crucial point where we must achieve women's equal participation in political and public life. Our global goals for the future depend on it," said Dafina Gercheva, UN Resident Coordinator and UNDP Resident Representative for the Republic of Moldova.
The conference is expected to yield new ideas for collaborative actions to promote women's leadership in politics and advance gender equality across the region.