Leadership and political participation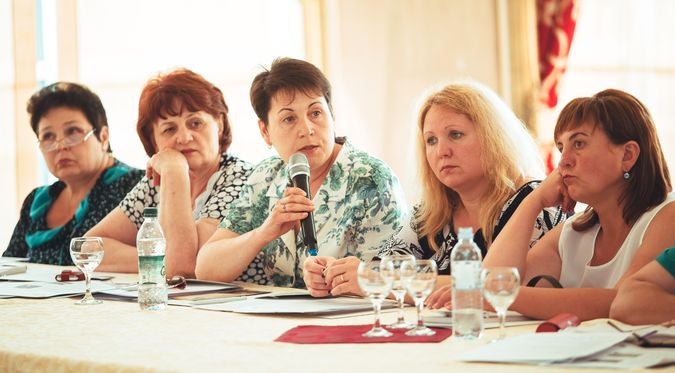 Across Moldova, women are under-represented in leading positions in the government, politics, business and civil society – despite their proven abilities as leaders and agents of change, and their right to participate equally in democratic governance.

Women's representation in Moldovan politics and decision-making processes is below international benchmarks. Women hold 22 per cent of seats in the Parliament, and 2 out of 9 Ministers are women, including the Bashkan of UTA Gagauzia. Women are also underrepresented at the local level holding 20.6 per cent of mayor mandates, 18.55 per cent of the seats in district and municipal councils, and 30 per cent in local councils. Roma women and women with disabilities are virtually excluded from representation in public life. Women are also under-represented in decision-making bodies in the private and civil society sectors.

The CEDAW committee recommendations for the Republic of Moldova from 2013 called for introduction of temporary special measures aimed at advancing women in political life and in leadership positions, Increasing efforts to provide training and capacity-building for women to enable them to enter public office, raising the awareness of parliamentarians regarding the importance of the engagement of women in public life. The recommendations also called for intensified efforts to enhance the economic and political empowerment of women in rural areas, as well as of women with disabilities and Roma women.

UN Women in Action in Moldova
In Moldova, UN Women works with the government, Parliament and civil society to promote women's voting rights, increase political representation and develop gender-informed policies. We provide training for women political candidates and offer civic education on gender equality and support to advocacy by civil society and women from various groups towards greater gender equality in decision-making and in legislative and policy processes.
In 2014, the Enhancing Women's Political Representation through improved capacity and enhanced support in Moldova initiative ("Women in Politics"/ WiP Programme) was launched. The Women in Politics is implemented jointly by two UN Agencies - UN Women and UNDP, in partnership with two civil society organizations - East Europe Foundation (EEF) and the Centre "Partnership for Development" (CPD), and works to increase women's participation in politics and decision-making processes from Moldova. The period of implementation is July 2014 - December 2017 and the overall budget is $3.485.690. Financial support is provided by the Government of Sweden.