Ending violence against women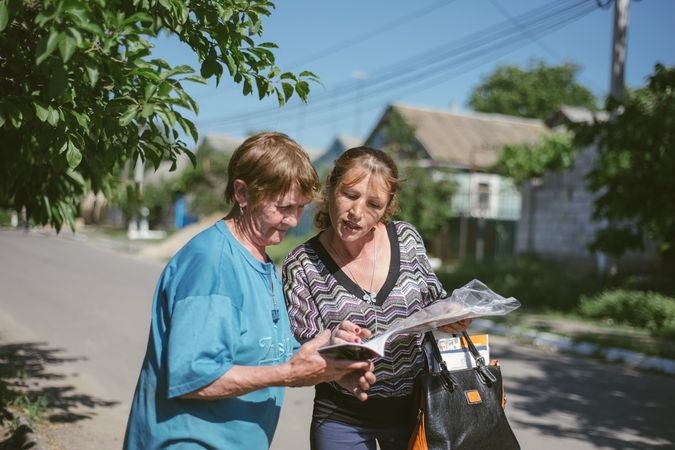 Violence against women (VAW) is one of the most systematic and widespread human rights violations in the world. In Moldova, as in other countries, it affects women regardless of context, culture, or socio-economic status, with serious repercussion for women, their families, and society.
The study Violence against Women in the Family, found that 63 per cent of women experienced psychological, physical or sexual violence from their partner during their lifetime and one in 10 experienced economic abuse. Rural, elderly, and separated or divorced women had the highest rates of violence.
The 2013 CEDAW Committee review of Moldova expressed concern about the high prevalence of violence against women and girls, including domestic violence and rape, and urged the authorities to further improve law, policy and practice in a number of areas and to ratify the Council of Europe Convention on preventing and combating violence against women and domestic violence.
Despite progress made, women experiencing domestic violence continue living in silence, due to stigma, lack of knowledge and limited access to justice and support services, and overall culture of tolerance and impunity. Many areas need more financial support. Recent study estimates that over 30% of the services considered essential per international standards do not exist in Moldova or are not efficient.[1]
The government has undertaken initial policy, legislation and implementation steps. Law No45-XVI on Preventing and Combating Domestic Violence adopted in 2008 is an important legislative base to combat violence against women. In July 2016, the Parliament of the Republic of Moldova approved amendments to the Law No45 and other 11 laws and codes to align Moldovan legislation to international norms.
UN Women in Action in Moldova
In response to this, UN Women tested a new survivor-focused approach by empowering survivors of violence from various backgrounds to speak up and advocate for concrete actions with their peers as well as with authorities and the media. This approach has led to changing perceptions of survivors by the authorities, media and other women, so they are acknowledged and involved as the key experts in eliminating violence against women in legislative, policy, institutional and community level initiatives. Moreover, UN Women mobilizes other actors of society including youth, religious leaders, former perpetrators, judicial staff, police, members of the artistic community, so that under the leadership of the survivors of violence, the 'whole of society' can produce long-overdue results for women. Apart from these, UN Women has continuously provided technical support to government authorities and civil society partners to implement provisions of the Domestic Violence Law (2008) and recent amendments, and to strengthen the legislative and policy framework by further aligning it to international norms and standards. In 2016, UN Women supported the Government in the development of the first ever Strategy on Preventing and Combating Violence against Women and Violence in the Family 2017-2022.