Economic empowerment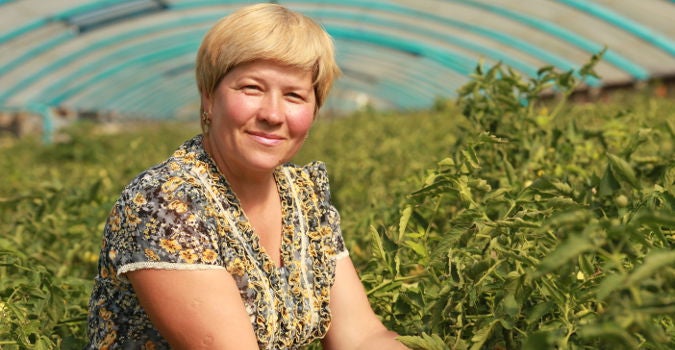 Photo: UN Women/Janarbek Amankulov
Women bring an enormous contribution to the Moldovan economy and the society overall. However, they face disproportionate barriers that limit their employment options and result in inequality on the labour market. These include significant wage disparities, segregation into lower-paying occupations, traditional expectations about their career choices, unequal sharing of work and family responsibilities, overprotective maternity leave policies, and limited access to childcare.
In Moldova, the employment rate of women is 37%, compared to 43 % in case of men1 and women earn on average 12.4% less than men. For some groups, however, the employment rate is much lower: for example, only 15% of Roma women over 15 years old are employed, compared to 34% of non-Roma women. According to a study commissioned by UN Women and UNICEF in 20132 , 9 out of 10 women with children under the age of 3, and two out of three women with children between 3 and 7 years old, are unemployed. On average, unpaid work occupies about 66 percent of women's total working time, and they perform nearly twice as much unpaid care work at home as men.3 
Women are under-represented in highly paid and in demand sectors and are mostly employed in lower-paid jobs and in the most "feminized" sectors of the economy which include public administration, education, health and social assistance, and trade, hotels and restaurants. For example, women represent over 80% of labour force in health sector, while earning on average 13.5% less than men.4 Limited economic opportunities for women affect the entire society.

UN Women in Action in Moldova

UN Women partners with Government, civil society organizations, academia and the private sector in Moldova to remove barriers to women's economic empowerment and empower them to have income security, decent work and economic autonomy.

To achieve this, we work to:
- Establish an enabling policy environment that facilitates women's access to equal employment opportunities;
- Advance women's and girls' access to Science, Technology, Engineering and Mathematics (STEM) and their digital literacy;
- Expand mentoring and job placement opportunities for women from most vulnerable groups;
- Promote recognition, reduction and redistribution of the domestic and care work
- Strengthen capacity of the Government to translate evidence into policy and budget decisions, taking into account the specific needs and rights of women and men, girls and boys;
- Promote Women's Empowerment Principles (WEPs) with private companies in Moldova.

Through the GirlsGoIT initiative, UN Women together with government institutions, international organizations, businesses, and civil society seek to advance the digital literacy of women and girls, especially those from disadvantaged groups.
[1] Women profiles, 2016, studies carried out by the National Bureau of Statistics, UNDP Moldova and UN Women Moldova
[2] A study on demand and supply of child care services though the angle of women's employability was commissioned by UN Women in collaboration with UNICEF and the Government of Sweden in 2013

[4] http://www.genderpulse.md/ro/abilitare-economica/castigul-si-ecartul-salarial/castigul-si-ecartul-salarial