UN Women supports women local producers from Moldova
Date:
An event dedicated to women producers from Moldova under the theme "Developing business opportunities for women producers" took place today in Chisinau. The event has been organised by UN Women Moldova, in collaboration with Ministry of Agriculture, with financial support from Sweden.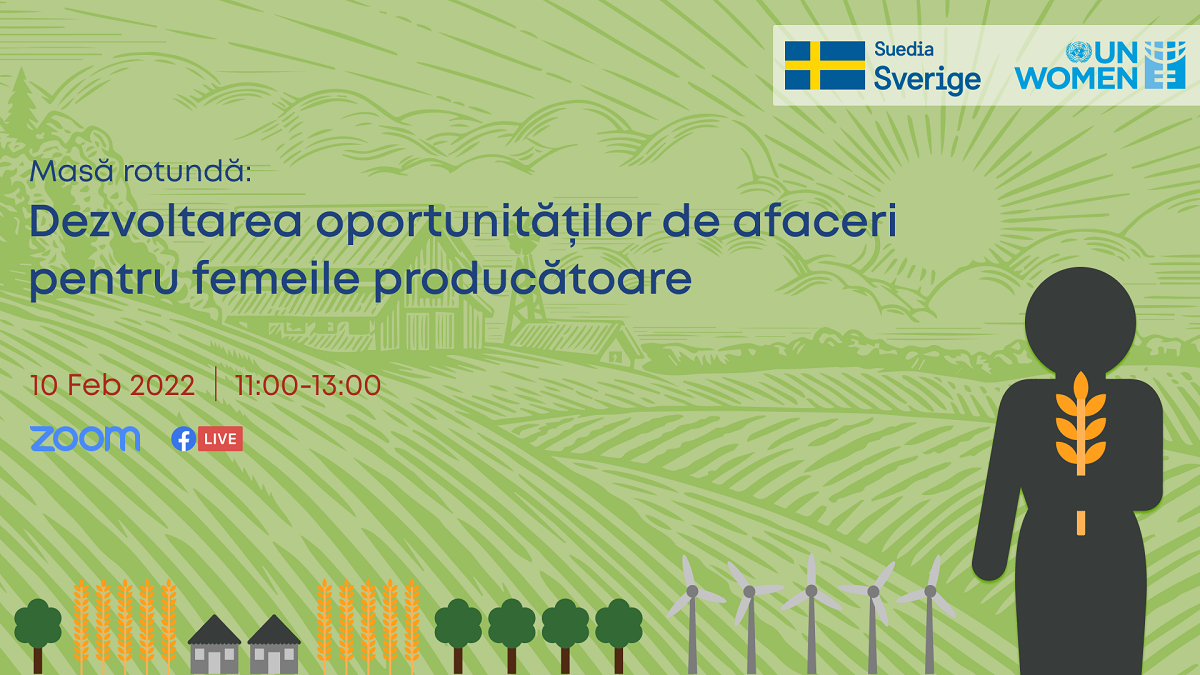 During the event, the results of the research on the evaluation of women local producers needs in business sustainable development have been presented. For this research, 73 women producers and processors from both rural and urban areas have been surveyed, 10 women being subsequently identified for individual interviews. Thus, the biggest business sustainable development challenges identified by women entrepreneurs – producers and processors - include: financial resources insufficiency and limited access to financial means, access to marketplaces and excessive requirements towards certification and quality standards. In order to help women producers to overcome these challenges, 10 capacity building training sessions to empower women local producers will be held throughout February. Also, 10 women will receive financial support of 30 000 lei as vouchers. A virtual catalog to promote women producers will also be developed.
Persisting gender gaps, challenges women and girls from rural areas face in accessing assets, resources, essential services and opportunities, combined with gender-based discrimination, prevent them from fully harnessing their potential. Gender gaps are particularly significant in rural areas where economically active population is generally smaller. According to the National Bureau of Statistics, in 2020, out of the total number of active population, 32,8% women and 40,2% men living in rural areas were economically active. The employment rate of women living in rural areas is 31,8%, and the employment rate of men living in the same areas is 38,7%. According to the data presented in the "Female entrepreneurship in the Republic of Moldova" research, businesses owned by women generate 2,6 times less incomes than ones owned by men, 2 times less revenue, and gain 17,5% less labor productivity. Moreover, the pandemic economically affected women to a larger extend, especially women entrepreneurs.
Iurie Scripnic, state secretary at the Ministry of Agriculture and Food Industry, mentioned: "Financial support offered to women farmers is 15% higher than the one offered to other categories of entrepreneurs from the National Agricultural Development and rural areas Fund, and we are glad that year by year the number of women farmers involved in agro-industrial sector is increasing. More than 800 women manage their businesses in agro-industrial sector."
"Rural development is crucial for improving the quality of life and economic welfare of citizens. In this respect, not only physical infrastructure is important, but also an increased attention to empowerment programmes and social infrastructure. As in all other policy domains, we can succeed if only we include in this process the entire population, women and men, girls and boys. Focusing efforts on the elimination of barriers that may exist, working together with women producers and entrepreneurs from rural areas, via specialised programmes, can create equal opportunities, thus contributing to the development of better communities." Her excellency, Katarina Fried, the ambassador of Sweden to the Republic of Moldova, said.
Dominika Stojanoska, UN Women Moldova country representative, declared: "Women's access to incomes, to decent employment opportunities are essential for women's economic empowerment and achieving gender equality. Taking into consideration that agriculture is the backbone factor of economic development of the Republic of Moldova, we cannot overestimate the input women entrepreneurs bring. It is very important to support women producers in developing their businesses, to ensure a sustainable and equal development, as well as resilience amid the COVID-19 pandemic and climate change."
Raimund Jehle, FAO representative in Moldova, believes that "Women from the Republic of Moldova need more opportunities to increase their capacities in managing agricultural businesses. We are glad that we have the opportunity to cooperate with relevant actors via this project, support women producers and respond to their needs".
The event has been organised within the "Supporting local women producers in developing businesses, for sustainable growth and resilience amid COVID-19 pandemic and its potential consequences" project implemented by Sweet Mary LLC in partnership with LegalTech, in collaboration with UN Women Moldova and financed by Sweden.