The leaders of the Women's Political Club 50/50 are determined to make history
Over 40 women leaders of the Women's Political Club 50/50 (WPC 50/50) from all over the country have participated on March 30 at a working meeting. The meeting set the grand finale for the national training campaign "Candidate! Be the change!", where 403 people – 383 women and 20 men – aspiring to participate in the local elections, have participated in training courses for the election process, organized by the Women's Political Club 50/50, with the support of UN Women and funded by Sweden.
Date:
During the event, the women discussed the activities they are going to launch and what is their political course for the nearest future. The project, that is based on equal participation in the decision-making process, has gathered participants that are determined to make changes in the political life in their localities and to motivate other women to get involved in the decision-making processes.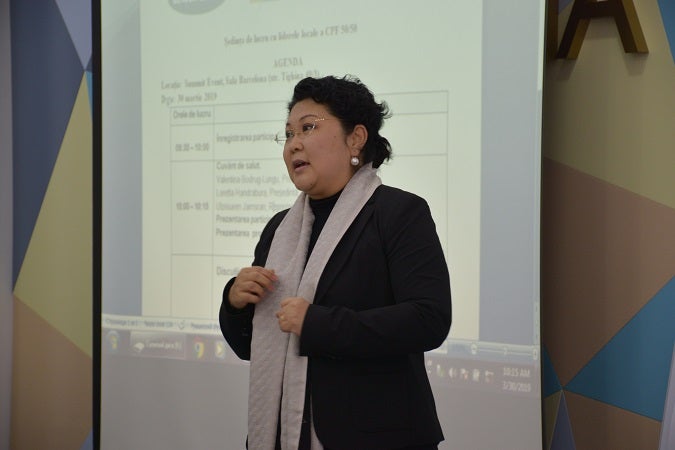 The trainings were focused on the barriers that prevent women to participate in the elections, how to create a campaign plan and the classical steps towards it, how to gather a team, to plan the budget and to communicate efficiently with the constituency through mass-media, the message and the slogan, the topics for the campaign and other recommendations a candidate should follow in order to obtain votes and the mandate that she is working towards.
"As a result of this activity, we understood that nothing is impossible. We need to believe and fight for change. Life is an on-going school and we shouldn't be afraid", says Lucia Iftodii, a candidate to the mayor position in Șolcani village, Soroca district.
Elena Palanciuc, a candidate to the councilor position, said: "Due to this training, I have found answers to how candidates are registering, different models of political experience, campaigning strategies. The most important thing was to consolidate the beliefs that women represent a value in politics."
The national training campaign took place in partnership with the "Gender Center" NGO and it's part of the project "Equal participation in the decision-making process", within the framework of the Cooperation Agreement with UN Women (United Nations Entity for Gender Equality and the Empowerment of Women), financed by Sweden and UN Women.