37 media outlets in Moldova accepted the challenge to promote gender equality in journalistic materials
Date: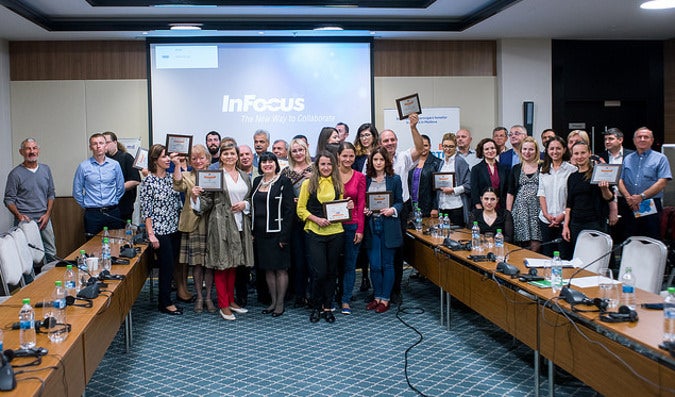 After 10 months of work, 37 media outlets from Moldova signed on Monday, September 19, a commitment to promote gender equality in journalistic materials. Thus, the newsrooms committed to reflect in a more balanced way both women and men in their materials, including to grant to the articles or TV programs with women as protagonists at least 25 percent of editorial space or airtime. Another commitment is to report consistently on women entrepreneurs, women`s involvement in politics and public administration and promote the importance of participation of both parents in children's education. Journalists have also committed to use a gender sensitive, non-sexist language and balanced images when reporting on the work of women and men.
All these took place during the round table "Gender Equality and Media: A Challenge for Moldova", carried out by the Association of Independent Press (API), within the UN Programme "Women in Politics" and financially supported by the Government of Sweden, which marks also the end of the "Mass-media institutions support program in ensuring gender equality", implemented between June 2015 – July 2016.
"I made an appeal towards media institutions to take concrete commitments and specific measurable gender indicators in different areas. I am pleased to see that many of them - audiovisual media, print media, online with national and regional distribution or broadcast - agreed to sign the commitments. Some newsrooms assumed ambitious commitments, some - more modest, but it is important that journalists and editors understood the importance of taking statements to concrete commitments", pointed out Petru Macovei, executive director of API.
Being in a special mission in Moldova, Ingibjorg Solrun Gisladottir, regional director for Europe and Central Asia of UN Women (United Nations Entity for Gender Equality and the Empowerment of Women), said that media plays a crucial role in ensuring equality between women and men, but can also be an ally and a promoter of gender equality. "Therefore, UN Women relies on media representatives that they will be champions in eliminating gender stereotypes and promoting gender equality. I express my gratitude to all the journalists who invested effort and energy during this program, and to the Government of Sweden for its support - not only to the media, but also to the mandate of UN Women, which to promote gender equality and the empowering of women", Ingibjorg Solrun Gisladottir stated.
Her Excellency Signe Burgstaller, Ambassador of Sweden in Moldova, pointed out that, "in accordance with the recommendations of the Convention on the Elimination of All Forms of Discrimination against Women (CEDAW) for Moldova, Sweden strongly supports national efforts to combat persistent gender stereotypes in society, but also media commitments to promote gender equality and properly reflect the image of women in public and political life."
Liliana Palihovici, vice-president of the Parliament, said that "gender balance should be a natural journalistic principle". "Raising awareness on gender among journalists can bring positive results. I am firmly convinced that a fair and balanced representation of women and men in the media can lead to an improved social cohesion and increase citizens` confidence in the media," Liliana Palihovici argued.
Moreover, Iulia Sirotiuc, editor at the TV 7 station, said that journalists from the TV 7 station accepted this program as a challenge. "Since the beginning of the program, we tried to balance the presence of women and men through our programs or talk-shows. We`ve been working hard to invite an equal number of men and women. And for the future we plan to present more women, not only quantitatively, but also qualitatively," pointed Iulia Sirotiuc.
The newsrooms that signed the commitment "Media for Gender Equality" are:
audiovisual media - TV 7, Moldova 1, Radio Moldova, SorTV (Soroca), Radio Orhei, Media TV (Cimişlia), Noua Televiziune de Sud (Taraclia), Drochia TV, Radio Chisinau, Radio Moldova Tineret;
print media - "Jurnal de Chisinau", "Natura", "Vocea Poporului" ("Voice of the People"), the news agency IPN, "Cuvantul"/ "The Word" (Rezina), "Gazeta de Sud" (Cimişlia), "Glia Drochiană" (Drochia), "Observatorul de Nord" "(Soroca), "Unghiul" (Ungheni), "SP" (Balti), "Gazeta Satelor"; Adevărul de Anenii Noi", "Cuvântul liber" din Leova, "Ecoul nostru" din Sângerei, "Expresul" din Ungheni.
online media - Gagauzinfo.md, Realitatea.md, Ziuadeazi.md, Unimedia.info, Everydayjournalism.md, Ialovenionline.md, Rasputin.md, Stirilocale.md, Trm.md, Diez.md, Zugo.md, Agrobiznes.md.
The commitment "Media for Gender Equality" can be downloaded here. More, this commitment can be signed by other newsrooms from Moldova.
Media self-asssesment programme in ensuring gender equality was conducted by API, with the support of UN Program "Women in Politics", implemented by the United Nations Entity for Gender Equality and the Empowerment of Women (UN Women) and the United Nations Development Programme (UNDP), in partnership with East Europe Foundation and Center "Partnership for Development", with financial support of the Government of Sweden.