Women and war: Millions of women flee from Ukraine with no clear destination
Date:
Millions of people have been fleeing their homes in Ukraine since the Russian invasion on 24 February 2022 turned into a full-fledged war. In Cahul, a border region in the south of the Republic of Moldova, local public authorities, volunteers and civil society are doing what they can to help, guide and host those on the move.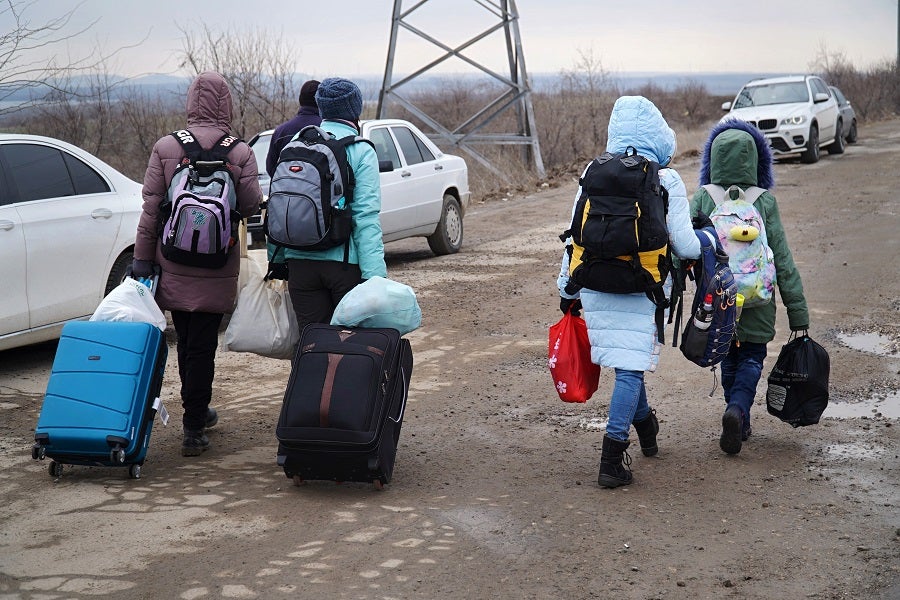 Immediately after the war started in Ukraine, local public authorities in Cahul created a Crisis Unit under the region's mayoralty, which works around the clock. Here, humanitarian aid and donations – from businesses and individuals alike – are stored and distributed. They provide blankets, preserved food, hygiene products, as well as information about food and COVID-19 testing, with vaccinations on demand.
Besides the Crisis Unit, Cahul's local public authorities also arranged temporary placement centres for refugees from Ukraine, which currently accommodate over 100 people: a dormitory at 'B.P. Hasdeu' State University, the 'Nufărul Alb' sanatorium, and the Maternal Centre in Cahul.
Many refugees benefit from the generosity of local inhabitants and are given shelter by people in rural areas of the district.
"Local authorities mobilized on day one," explains Tatiana Romaniuc, Deputy Mayor of Cahul Municipality. "The Crisis Unit was established immediately, responsible persons were designated, and volunteers were identified. We are in great need of volunteers, because the Unit works 24/7 and this means day and night shifts. There are people who volunteer to stay overnight and provide support to people who are fleeing the war. People need information about accommodation options, documentation, details about crossing the border, transportation and other types of support. These things may seem trivial, but trivial things became essential overnight. Our life turned into permanent movement. Daily, we guide, inform and provide accommodation to 200–250 people. Some people get registered, obtain documents and continue their journey towards other countries."
Many people provide help immediately, mobilizing online to offer accommodation, transportation, clothing, food, health care or translation services. Some refugees, who decide to stay longer-term, volunteer to help their co-nationals.
"In our team, we analyse various ways of integrating refugees, including children," says Romaniuc. "We have already received some requests from them. We set goals to manage the situation in the long run. We discussed with various cultural and educational centres in order to see what possibilities are available for involving refugee children in various activities. We received expressions of interest from the Creativity Centre, dance teams, 'Maria Cebotari' music school, Fine Arts School, and many other centres. They came up with offers and ideas for a longer term."
Stela Vodă works at Cahul Mayoralty and has been a volunteer in the Crisis Unit since the very first wave of refugees: "I'm with the Crisis Unit from the very beginning. We are working around the clock here, but I don't feel tired. Here is where I live emotional moments, I meet people with incredible life stories. Many refugees get here in a lot of pain; some are soaking wet, without any clothes and it's most difficult to see small children that have nothing. Here, at the Crisis Unit, we try to provide these people with everything we can, at any time, day or night."
She explains that many local organizations are also providing accommodation or hot meals. They work with the mayoralty or carry out separate activities to support the refugees.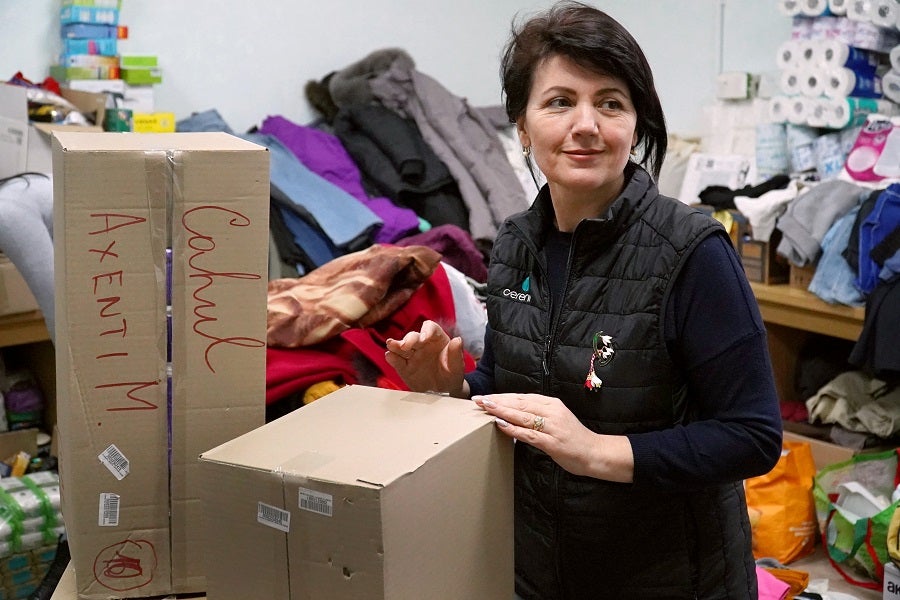 "There's an unprecedented mobilization of organizations from Cahul," says Vodă. "They cook hundreds of meals every day. They collect hygiene products, food for children (aged 0 to 18), blankets and baby clothes." A significant share of refugees reaches Moldova by crossing the country's southernmost Giurgiulești-Reni border crossing.
Around 10,000 people enter the country here daily. Border Police lead refugees to an improvised tent where they are offered tea or coffee. From here, most of them, mothers and children, walk around two kilometres on foot to the nearby Galați Customs, the border with Romania. Volunteers organize transport there, especially for mothers with small children.
Irina taught at the Waldorf School in Odessa before she was forced to flee. She is frozen but hardly convinced to take a break. She is concerned with getting to a warm and safe place before nightfall.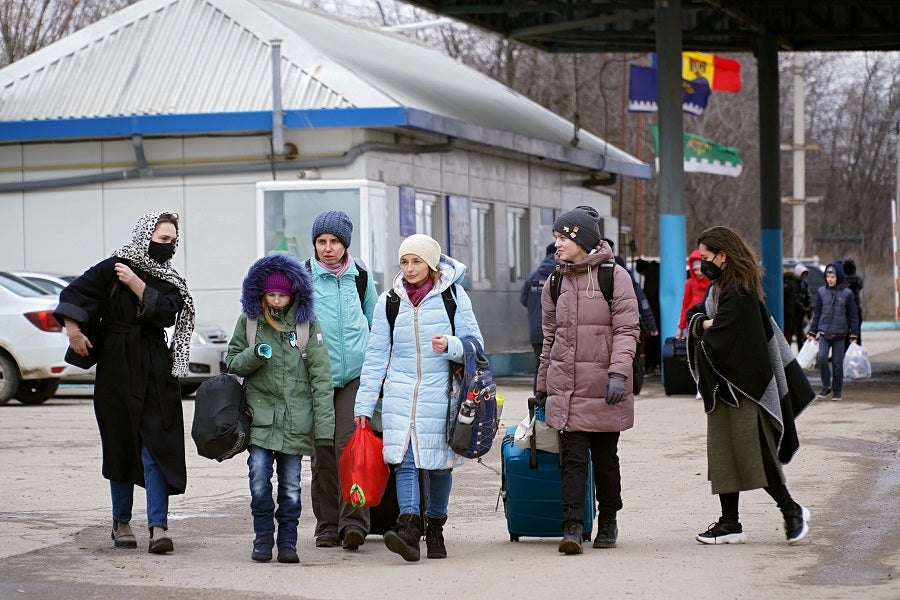 "We will see where we get," says Irina. "We could go to France or Switzerland. There is a community of teachers that invited us. We haven't decided yet which way to go. It's important that we reach the Galați Customs."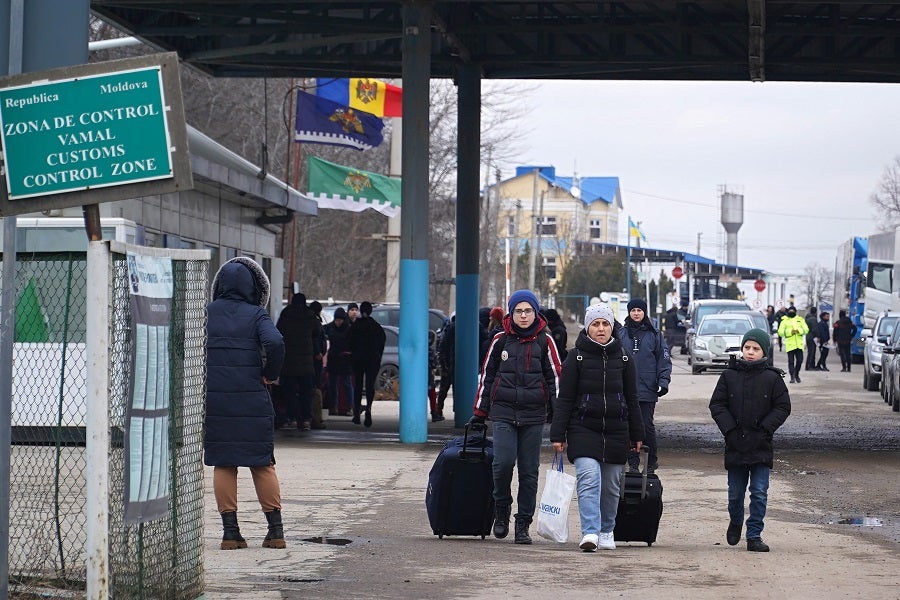 Galina, 40, was among those who queued for kilometres to travel from Ukraine into Moldova, escaping from Ismail, a town located 192 km south-west of Odessa.
"I feel lost. Everybody is running. It was so hard to make this decision. I had no choice. I must take care of my boys. My husband stayed to fight. I decided to leave while my eyes were welling up with tears. Everything I wish is for the war to end and for us to go back home. My life's work is back in Ismail. My home, my household – everything is back there. Lately the air-raid sirens were going off more and more often, and then I could hear all kinds of sounds coming from the sea and I could not stay calm. We fear for our lives. We see what happens in Kyiv, Mykolaiv or Harkiv," shares Galina.
Galina doesn't know where she'll end up, but would like to reach the Galați border crossing. Once in Romania, she'll make that decision.
As the refugee influx increases, many come with friends, relatives or pets. Aliona, 33, fled from Odessa with her three children.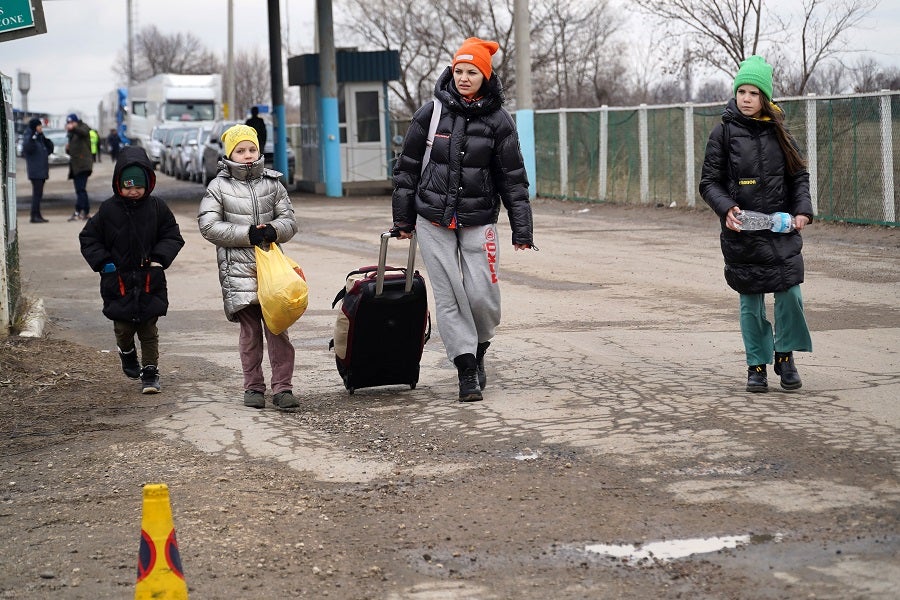 "We used to hear bombs every day in Odessa. We stayed in the basement for a couple of days, but we couldn't take it anymore. My husband decided to stay and to fight for our home. Do you see what's happening?" asks Aliona. "Life doesn't matter anymore. It is worth nothing. Both military and civilians are shot. Innocent mothers and children are dying. It is horrible and terrifying. I have so many friends in Harkiv, but they cannot leave even if they wanted to. It is impossible to get out. That's not because of the lack of a green corridor, but because they are bombed all the time and it is very dangerous."
Aliona does not have a clear end destination in mind either: "I hope I will get to Bulgaria. I have an aunt there. We wrote each other a little during this time, but nothing is clear. It is important that I get there. I speak Bulgarian and even if my aunt doesn't help me, I hope I will find a job there."
In Moldova, UN Women is working with partners to ensure that there is up-to-date data on and analysis of the gender dynamics of the situation. UN Women, together with partners, is undertaking a gender assessment to capture the situation and needs of women refugees from Ukraine. UN Women is also supporting women's civil society organizations that support refugee women and girls with essential services. 
Within the EU-funded EVA Project were offered 100 canvas bags with hoodies, puzzles, umbrellas, food containers and thermoses.
This article was written as part of the EVA project 'Strengthened Gender Action in Cahul and Ungheni districts', funded by the European Union and implemented by UN Women.
Contacts:
Valentina Bordian, Communication Officer
Tel. +373 604 25050, email: valentina.bordian@unwomen.org