Dialogue held on access to justice for women survivors of gender-based violence
Date:
On 29 November, UN Women Moldova and its partners held a dialogue at the National Institute of Justice (NIJ) on "Access to Justice for Women Victims and Survivors of Gender-Based Violence," as part of the 16 Days of Activism to End Gender-Based Violence campaign.
Access to justice plays an important role in the fight to end gender-based violence (GBV). A coordinated and integrated justice response leads to the conviction of perpetrators, which contributes to the safety and well-being of survivors and prevents revictimisation. At the same time, there are many obstacles that hinder access to justice, including stereotypes and prejudices in society, a lack of information about rights and legal frameworks, the availability and accessibility of legal aid, a lack of specialised training  for judges and prosecutors as well as uncoordinated response mechanisms. These challenges can result in revictimising survivors while also decreasing their trust in the judicial system.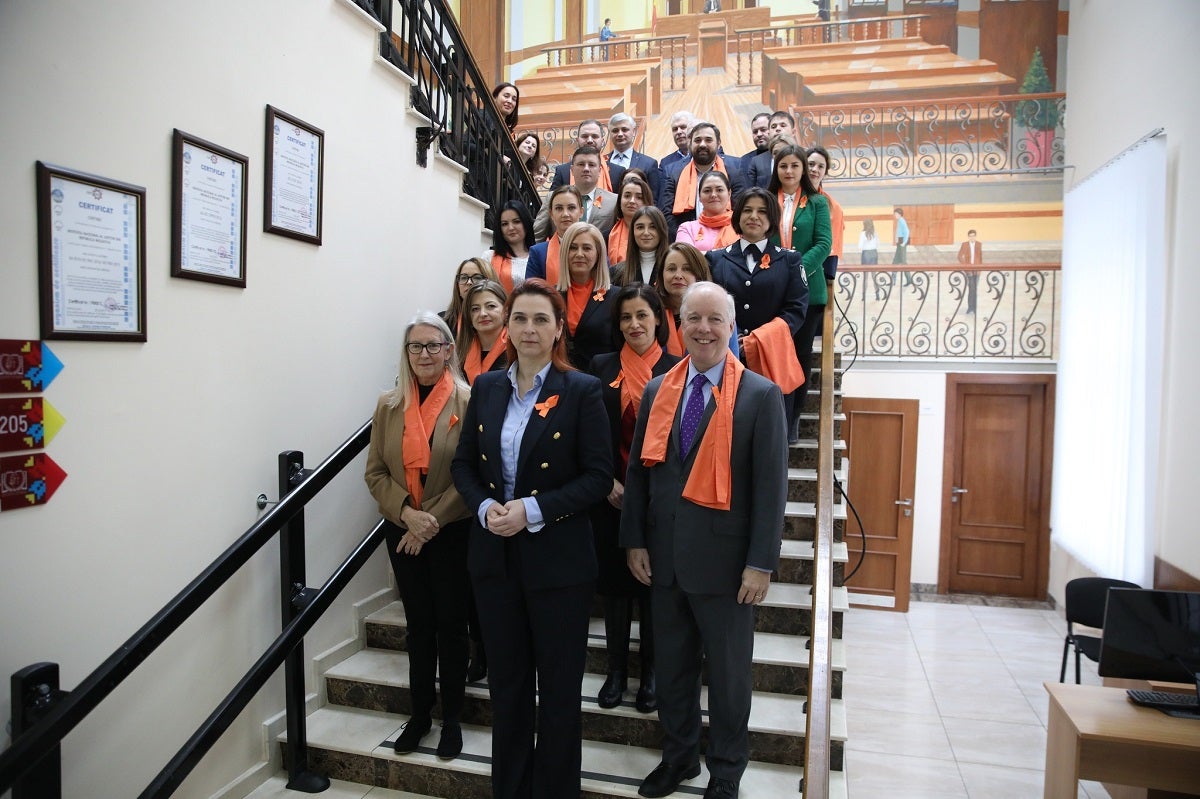 According to research released in October 2022 from GREVIO, out of 1,673 victims who reported domestic violence in the Republic of Moldova during 2021, 1,404 of them – nearly 84 per cent – were women. In total, 1,571 of the perpetrators in these cases – nearly 94 per cent – were men.
Opening the event, Ecaterina Popa, the Interim Director of the NIJ, explained that the organisation's mission is to strengthen the professional capacities of  their beneficiaries by offering quality training. "In our work, we also try to change certain attitudes and stereotypes," she said. "For the past two years already, we have been organising seminars for our beneficiaries in collaboration with the Women's Law Centre, La Strada Moldova and the National Centre for the Prevention of Child Abuse". Recently, the NIJ launched a training course on "Women's Access to Justice and Domestic Violence". She continued: "We will continue to do our utmost to ensure that our beneficiaries are able to respond as effectively as possible to cases of violence and that women and girls are no longer subjected to this phenomenon".
The Minister of Internal Affairs, Ana Revenco, stressed the importance of preventing gender-based violence through education: "And here we are talking about the education of future judges, police officers, lawyers, psychologists – every person who will have contact with victims of violence. We need to invest in education if we want a modern society, a stable society in which girls and women are seen as valuable members that contribute to the development of the country". She encouraged everyone to contribute towards this goal and emphasised the government's commitment: "At the same time, I assure you that, in addition to the concern of preserving peace in the country due to war in the region, the Ministry of Internal Affairs remains firmly committed to bringing justice to those who are guilty of violence against women and girls and preventing their revictimisation".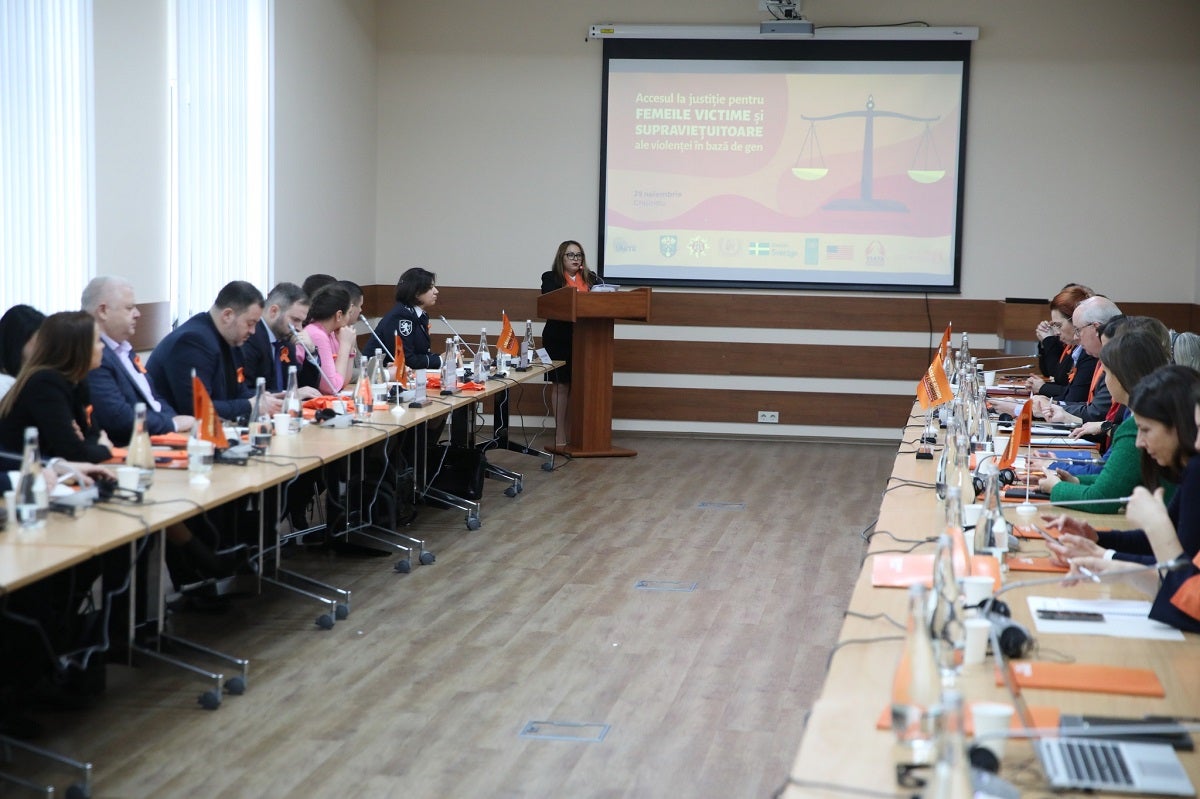 The State Secretary of the Ministry of Justice, Veronica Mihailov-Moraru, said that the Republic of Moldova has made progress in preventing and combating GBV; however, the number of cases has not decreased and the rights of victims are not fully ensured, including those that should be guaranteed during a victim's stage of contact with law enforcement. "However, these shortcomings are not always of a legislative nature," she said. "What matters is the way legal norms are applied to actual cases". She further explained that it is important for legal practitioners to adopt a gender-sensitive approach and interpret the law in line with notions of equality and international human rights. "We, the Ministry of Justice, are happy to be actively involved in making the justice system in the country more efficient," she continued. "I believe that in order to achieve the proposed goals of eliminating gender-based violence, efforts must be combined and jointly recognised."
Kent D. Logsdon, U.S. Ambassador to Moldova, remarked that this year's 16 Days campaign has special meaning because it marks one year since the Moldovan government ratified the Istanbul Convention. "I would like to express my gratitude to all those who have worked to promote human rights and to protect girls and women from violence," he said. "Our priority must be to prevent gender-based violence – but when it does happen, we must ensure that victims are treated with compassion and respect and that they have access to justice. We, the Embassy of the United States of America in Moldova, are proud to stand with you in the fight against domestic and gender-based violence".
Dominika Stojanoska, UN Women Country Representative, stressed the urgency of addressing GBV. "The war in Ukraine, the energy crisis, the economic crisis are leading to increased violence against girls and women," she said, adding that the current situation is comparable to the increase in GBV witnessed during the pandemic. "Violence against women and girls is the most serious violation of human rights; it destroys families, communities and human lives," she said. "A number of very important legal amendments have been adopted recently, but we need to see how we can make their implementation as effective as possible so that victims have equal access to justice and are more willing to report violence".
Andrea Cuzyova, Deputy Resident Representative of UNDP Moldova, said that ensuring access to justice is the key to GBV response. "Without effective legal remedies, efforts in many other areas are insufficient," she said. "Today's dialogue seeks to address gaps in laws, procedures and capacities by taking good practices, including at the international level, and co-creating viable solutions to overcome barriers to access to justice".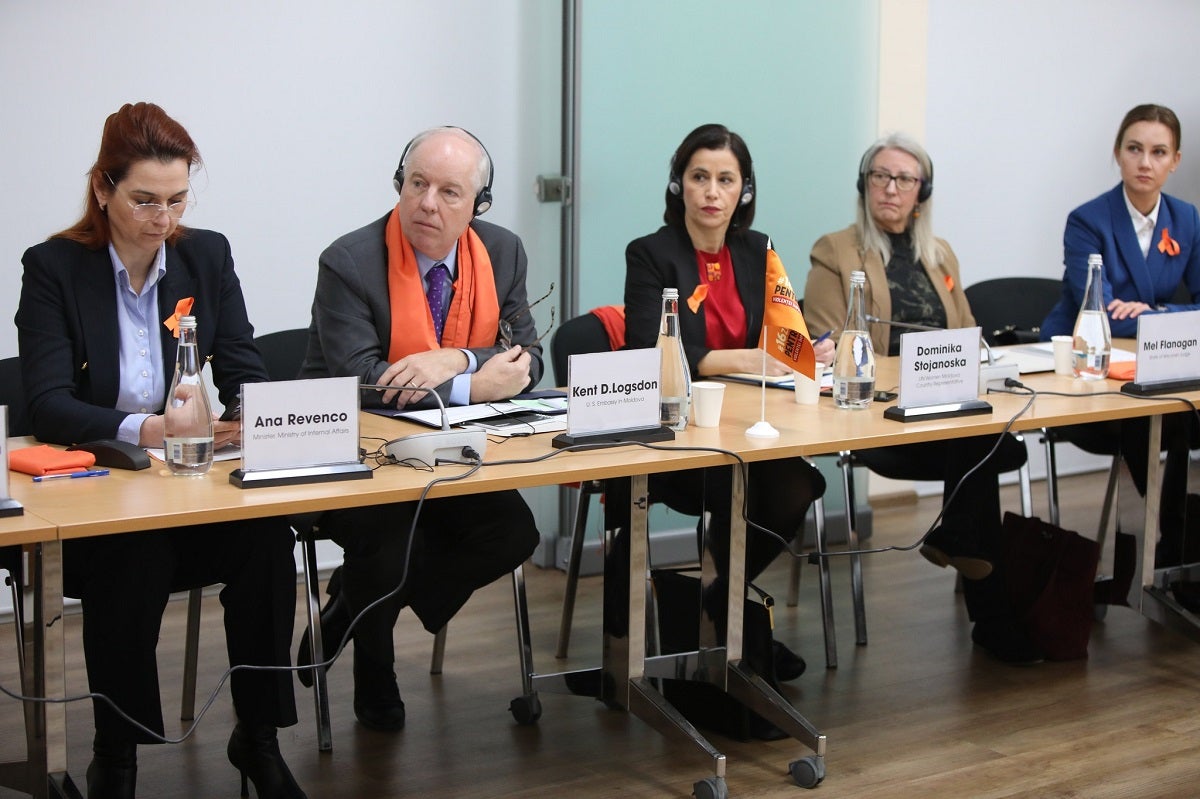 The dialogue "Access to Justice for Women Victims and Survivors of Gender-Based Violence" was organised by UN Women Moldova and UNDP Moldova in collaboration with the Ministry of Internal Affairs, the Ministry of Justice, the NIJ and the National Coalition "Life Without Violence," with financial support from the Government of Sweden and the U.S. Department of State.