#BodyPositivity Campaign Launched for the First Time in the Republic of Moldova
UN Women and Viorica Cosmetic launched the Campaign to promote a positive body image "#BodyPositivity – Moldova". The event was hosted by Viorica Cosmetic's Museum of Beauty, where representatives of Viorica Cosmetic, UN Women Moldova and the Embassy of Sweden started the campaign, followed by a discussion with its protagonists.
Date:
Taking into account the negative effects on woman's image produced by unrealistic beauty standards in advertising, UN Women Moldova, in partnership with Viorica Cosmetic, launches the first Campaign to promote a positive body image, where four women, each representing a specific group such as women with disabilities, Roma women, women 60+, women representatives of linguistic minorities, will demonstrate that beauty is different and will share their life stories that promote female leadership.
"What we have seen so far in advertising or magazines, especially in fashion, are mostly young, tall and supple women. This forms the idea that beauty looks or should look that way. Exists a perception that clothes, as well as cosmetics, are only created for women with a certain body type. But the reality is different: not only young women with perfect bodies use creams. We want to prove this not only with our products, but also by how we promote them" – said Maria BORTĂ, Executive Director of Viorica Cosmetic.
Milana RIKANOVIC, Country Representative a.i. of UN Women, said that "we must show that beauty comes from the interior and can be expressed in many shapes. I am glad to have with us these beautiful in different ways and intelligent heroines who will share with us their experience, will promote together with us a positive image of the body and will break stereotypes."
"We hope that other companies will join the #BodyPositivity initiative launched today and will feature in their advertising models with different body types, ages, ethnicities, with or without disabilities. We do not have to try to achieve certain imaginary criteria in order to consider ourselves handsome or beautiful. It is important for anyone to identify themselves with what they see in advertising" – expressed his opinion Adam AMBERG, Head of Development Cooperation at the Embassy of Sweden
The event ended with a discussion, where the heroines of "#BodyPositivity – Moldova" campaign spoke about their personal and professional life experience.
"I liked politics and women empowerment domain, that's why I always followed my dreams, I passionately got involved in everything, and I also worked hard. As a leader you have to accept both challenges and failures, but I think that no matter how talented you are, it is important to do what you love", Ecaterina Mardarovici, Executive Director of 50/50 Women's Political Club, told her secret about becoming a leader.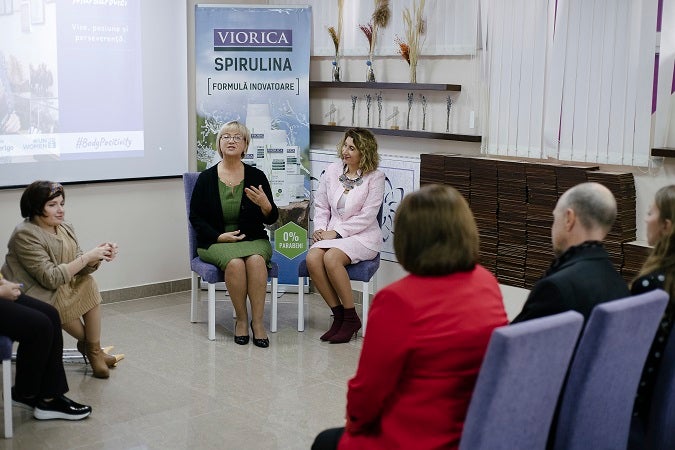 Victorina Luca, heroine of the campaign, shared her life story and spoke about the difficulties she faced as a Roma person: "I was stigmatized in the society, I was seen differently, but I managed to graduate from the Law Faculty and now I am working in the field of human rights. I wanted to make a change in our society, so I founded an online radio that promotes human rights. We have social programs for Roma people, including programs for women and girls."
"In Gagauzia, where the patriarchal system dominates, and a woman has to stay at home, to give birth to children and to obey the man, I wanted to prove that I am also able to do something. So, my family and I opened a dairy farm. And today, when we already have 800 cows and no outstanding loans, I want to say that a clean conscience helps me a lot in business" – said another heroine, Maria Acbaș, from ATU Gagauzia.
Irina Revin, Head of the Association of Entrepreneurs with Disabilities, shared her impression about the campaign: "This campaign was a challenge for me to stop, analyze and accept myself as I am. The more I accept myself, the more I try to be better in everything I do."
Note: Body Positivity Movement aims to dismantle the existing stereotypes and perceptions that promote a "perfect body shape". The movement argues that people must have a positive vision of accepting their own body and beauty. It thus challenges the ways in which society presents and views the human body, especially women's body frequently represented within the limits of artificial beauty standards. The movement advocates the acceptance of all bodies no matter the form, size, or appearance, as well as that everyone sees beauty differently, and there should be no criteria to evaluate the beauty of a person, especially of a woman. The goal of the movement is to address unrealistic beauty standards and to build the confidence of oneself.
The Campaign is organized by UN Women (United Nations Entity for Gender Equality and the Empowerment of Women) in partnership with Viorica Cosmetic and financed by Sweden.