Moldovan Civil Society Organizations Join Forces to Promote Gender Sensitive Budgeting
Date:
About 30 representatives of 20 civil society organizations from 9 districts of Moldova, created the Platform for Gender Responsive Budgeting (GRB) to work together in monitoring and promoting gender responsive budgeting.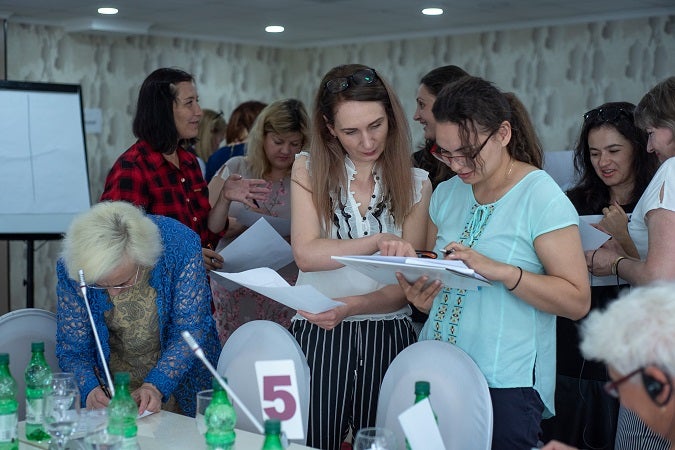 The first objective of the group is to analyze some local budgets and see whether they take into account the needs of both women and men and whether women and men are equally benefiting from the public funds.
Currently, the 30 members of the civil society analyze local budgets of Balti, Sangerei, Hincesti, Basarabeasca, Nisporeni, Falesti, Stefan Voda and Chisinau cities. Each organization has chosen to analyze from gender perspective such aspects as: allocation of public resources for schools and kindergartens, allocation of allowances for people with disabilities, the public budget for sports facilities, public spending on energy resources, resources earmarked for employment of elderly, and other aspects of local budgets.
"It is very important that the civil society monitor how public money is spent, to see who the final beneficiaries of these funds are, and whether the needs of different social groups have been considered. We have monitored the budget of sports schools in Balti municipality. We noticed, for example, that the men are benefitting more from these public funds then women, because most coaches and beneficiaries are men. Less money is allocated to the sports popular among women. At the same time, we notice that there are more female beneficiaries in sports teams coached by women, and the reverse, there are more men in sports groups coached by men. During employment they must consider the gender aspect as well. It is important to monitor public budgets and be vocal in order to achieve positive change," said Diana Grosu, president of LEX XXI Human Rights Association, one of the participants.
Based on their budget analyzes, civil society organizations will draft reports on how gender sensitive and inclusive are the local budgets.
"The Platform for Gender Responsive Budgeting has a key role in increased accountability of local and central government towards their commitments on gender equality. The dialogue and advocacy efforts of civil society organizations are essential to gender mainstreaming in policy and programs planning at national and local levels," said Viorica Ghimpu, Programme Coordinator, UN Women Moldova.
Civil Society's reports on gender responsive budgeting will then be discussed in local communities and with the local public administration.
The 30 civil society representatives were trained on Gender Budget Watchdog Reporting based on UN Women methodology and the experience of other countries in the region. These activities are part of the regional project "Promoting Gender Responsive Polices in South-East Europe and the Republic of Moldova", financially supported by the Austrian Development Agency.