'Women 4 Leadership' Academy has started
Date: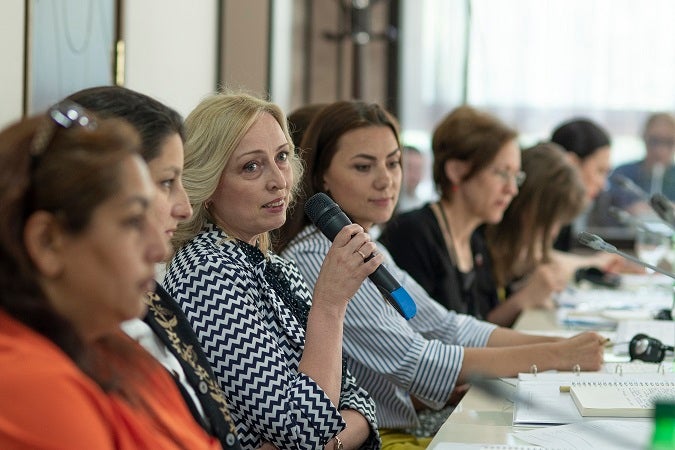 Over 140 women from different regions of Moldova, interested in participating in national and local decision-making, can benefit from trainings under 'Women 4 Leadership' Project.
The Project, launched by CONTACT-Cahul Center and Institutum Virtutes Civilis (IVC), in partnership with UN Women Moldova (United Nations Entity for Gender Equality and the Empowerment of Women), starts in June 2018.
Participants will learn good practices of national and local decision-making, techniques to organize effective public campaigns, and will have the opportunity to apply this knowledge starting with the 2018 elections.
In addition, a platform for dialogue, training and action of women leaders will be established under 'Women 4 Leadership' national project. The platform aims to be inclusive and contribute to increasing the assertion chances of women from different groups, including young women, ethnic minority women, women with disabilities, who are practically absent from the decision-making.
'Women 4 Leadership' Academy will also provide training and advice to 10 local and regional non-governmental organizations to enhance their advocacy skills in the dialogue with local public authorities in order to develop and implement gender-responsive local public policies.
To register for the first 'Women 4 Leadership' training sessions, that will take place during June-September 2018, see details here.
CONTACT-Cahul is a non-governmental organisation that contributes to the development of the civil society in the Republic of Moldova by strengthening the associative sector, economic empowerment, advocacy, by facilitating social dialogue and supporting citizens' initiatives.
Institutum Virtutes Civilis Association is an independent and apolitical think thank in the Republic of Moldova, established to contribute to the development of the rule of law and the promotion of participatory democracy, and to a greater efficiency of public policies in human rights promotion, peace negotiation and conflict resolution, capacity building for good governance, education and research, social inclusion and protection.
'Women 4 Leadership' Academy is launched with the financial support of the Government of Sweden and UN Women Moldova.
CONTACTS:
IP CRAION CONTACT-Cahul
46, Negruzzi Street, Cahul town
Tel.: +373/299/84842
Web: http://contact-cahul.md
E-mail: [ Click to reveal ]
Institutum Virtutes Civilis
1, Bulgara Street, Chisinau
Tel.: +373/79403288
E-mail: [ Click to reveal ]