(Video) Ludmila Scalinîi: "The country doesn't belong only to men, it belongs to men and women"
Date:
As part of the "You know you can" campaign we discussed with a woman who made history in the Republic of Moldova and who continues helping people from different regions of the country. Ludmila Scalinîi was member of the first Parliament of the Republic of Moldova, signer of the Declaration of Independence and participant of the Women's Movement in Moldova.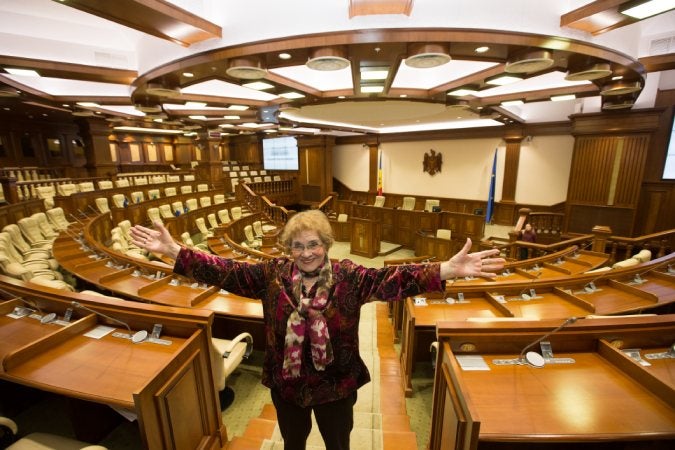 "I have a degree in Psychology, I was a kindergarten teacher, a teacher at the pedagogical school in Soroca district, for 30 years I was a councillor of the Chișinău municipality and I was a member of the first Parliament of the Republic of Moldova.
I was always that member of the Parliament whom people trusted.
I was one of the first women to have the honor to sign the Declaration of Independence of the Republic of Moldova. For this reason, I can state that I made history. I received the "Knight of the country" award, because I succeeded at organizing, together with the most important Government officials, the Days of Moldova's Culture in 65 countries.
I knew that I could, and I tried to do things the way my mother used to do. I have dedicated my entire life to helping people in need and I am still committed to this cause.
While having various high rank positions in Moldova, I have managed to raise and educate two children, a son and a daughter, and together with my husband, we did our best to educate them well. They practiced different sports, they attended music school, they danced, learned foreign languages and they are my biggest pride.
I can say that in my career I was very lucky. I met many famous people from all around the world. I had the great honor to make acquaintance with Yuri Gagarin and, together with other people, to welcome him here, in Chișinău. I have worked with Valentina Tereshkova, the first woman astronaut, for almost 20 years.
I have organized many conferences, seminars on gender equality and the empowerment of women. I was very lucky to be invited to the World Conference on Women`s Issues, organized by the United Nations in China, where there were delegations from over 130 countries. I was the president of the Moldovan Women's Association and thanks to this organization I have helped hundreds of children, I have brought aid from other countries, I have promoted women in politics and business, I have established important relations with women's organizations from other countries and I have conducted many other activities dedicated to women.
The involvement of women in politics is a global problem, not only of our country. But I believe that this situation is already changing. I hope that in the future elections people will support more women!
Not only men, but also women should have leadership positions. As in a family the husband and the wife discuss in order to solve family issues, the same should be applied in running a country, because the country doesn't belong only to men, it belongs to men and women."