"Grab and Run" the film which portrays the subject of forced marriages in Kyrgyzstan will be screened in Chisinau
Date: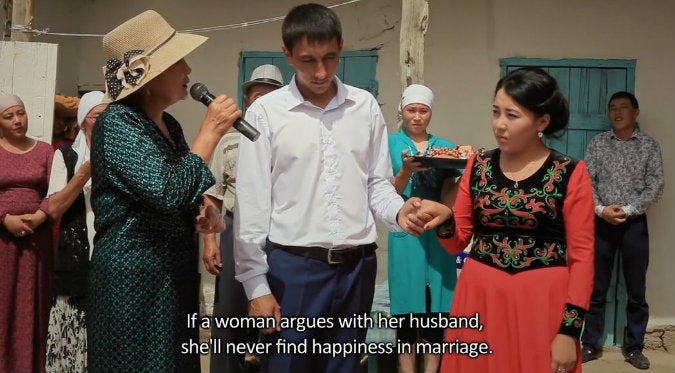 "Grab and Run" movie caption/Roser Corella
Touching upon the sensitive subject of forced marriages and bride kidnapping, the documentary "Grab and Run" of Roser Corello, a Spanish film director, illustrates a new reality where forced marriages and bride kidnapping are still part of the local customs in the 21st century.
The director of the movie, Roser Corella arrived in Chisinau to take part at the International Film Festival CRONOGRAF. About her film, Roser claims that there is a rich story behind it and more importantly, these stories have to be told.
After the collapse of the Soviet Union, Kyrgyzstan's identity crisis reached unprecedented levels. During the three months she researched and filmed her documentary, she had the chance to understand and study the social and historic layers of this phenomenon. The initial idea of this custom had some romantic connotations. More often, youngsters who wanted to secretly get married agreed amongst themselves that the boy will kidnap the girl. During the Soviet Union's period, this changed because more women were getting education and they also became more reluctant to get married early. In these circumstances, bride kidnapping became more common, although there is a law which prohibits this practice.
"It's shocking that society gives more importance to an old tradition than to the actual law", claims Roser. "But still, each society is complex and is my duty as a film-maker to search the under-layers and to study the local context. It is crucial to understand the place you're trying to portray through images", says Roser.
About how she managed to get into the middle of the story and subject, Roser claims it was not very difficult. For the major part, she contacted women's organizations, anthropologists, she went in villages and talked to these women who have been kidnapped, it was very intense, but fascinating overall."
"I went to a relatively small village and after interviewing approximately all the women from that village, I was appalled to find out that 90% of women were kidnapped, and then were forced to marry with their kidnappers."
In their voices, you could hear resignation, asserts Roser. "When I was asking what they wanted before being forced to marry, the majority of them were telling me that they had plans to continue studying, get a job or travel. And one day, it all happened and from there, it was all about being a housewife."
"The worst, in my opinion is that, apart from the humiliation and violence that a woman is suffering when she is kidnapped, she also loses her will and hope regarding her destiny. Throughout all these months when I talked to women from Kyrgyzstan, very few of them went to university or got a job after marrying," claims Roser.
What would make women accept this inhumane tradition? According to the film director, the pressure that women have to face if seen going out of man's house unmarried is huge. "In worse scenarios, the kidnapper rapes the woman thus forcing her to stay. In such cases, even her family doesn't want her back. The culture of shame is huge in Kyrgyzstan, and most of the times, the victims are women."
Another issue that surfaced in Roser's film is the role of society, including that of mothers, to perpetuate these harmful practices. "You would expect mothers, who have also been forced to marry, to feel empathy for their daughters or other girls. However, the society I tried to portray is often full of contradictions. When a girl is kidnapped, it is the role of the boy's mother and grandmother to convince the girl to stay and marry."
Ultimately, about these things and customs we must talk, these traditions normalize violence against women, this is why my job is to open eyes and show the world what is still happening", concluded Roser.
Since Kyrgyzstan gained its independence in 1991, there has been a revival of an ancient practice of Ala-Kachuu, which translates roughly as "Grab and Run". More than half Kyrgyz women are married after being kidnapped by the men who become their husbands. Although the practice is said to have the root in nomadic customs, the tradition remains at odds with modern Kyrgyzstan. Ala-Kachuu was outlawed during Soviet era and remains illegal.
UN Women Moldova for the second year in a row, supported the International Film Festival CRONOGRAF in order to promote gender equality and women's empowerment. UN Women Moldova will award the best film in the festival which tackles the subject of women's rights and will co-organize a discussion with women film directors and representatives of women's organizations, youth and local artist about the role women play in film. On 31st of May, there will also be a special screening with free access of two powerful documentaries, one of which is "Grab and Run" by Roser Corella on women's rights followed by Q&A with the directors.