International conference calls for localized and gender-responsive approaches to refugee response and peacebuilding
Date:
Women leaders and promoters of equality and peace from about 10 countries met in Chisinau to discuss peace, security and crisis response at the international conference "Women lead the way: strengthening a localized and gender-responsive approach to refugee response and peacebuilding."
The event, which was organized by UN Women Moldova on 12 and 13 October, offered a dialogue platform for international and national representatives from civil society organizations and coalitions, international organizations as well as governments. The participants exchanged their experiences, shared lessons learned and reiterated the importance of localizing crisis response to meet the needs of each person and community, as well as to strengthen resilience, peace and social cohesion.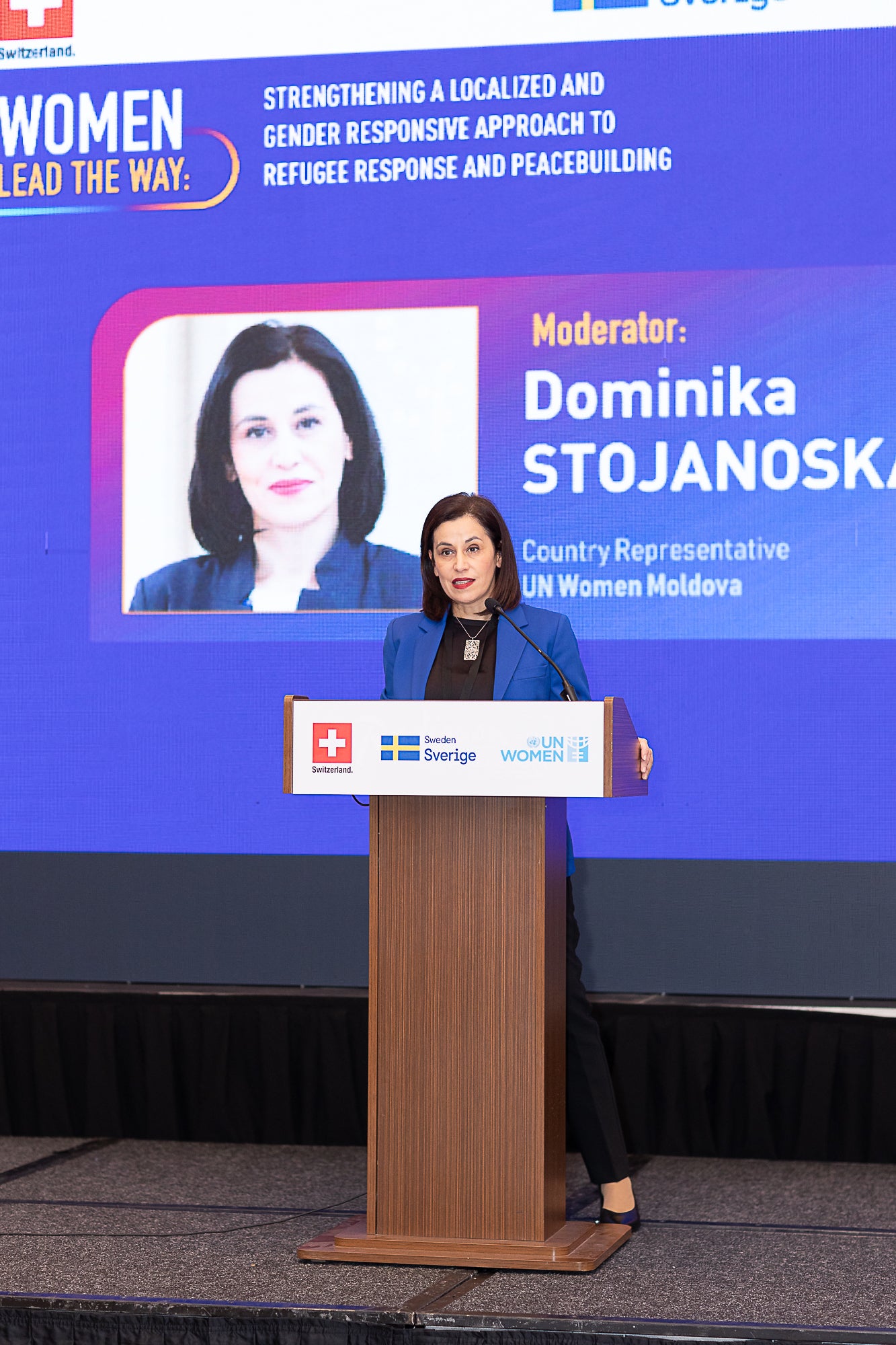 At the beginning of the conference, Dominika Stojanoska, UN Women Moldova's Country Representative, highlighted the crucial role of women in ensuring the refugee crisis response, referring to the local context. "In Moldova, the response to the refugee crisis represents a very good example of how women's organizations mobilise in emergency response and carry out subsequent activities to ensure inclusion and social cohesion," she said. "The past year and a half has demonstrated that gender mainstreaming and promoting women's leadership and meaningful participation in all aspects of the refugee crisis response, closely linked to the Women, Peace and Security Agenda, is essential for the long-term development and stability of the country.".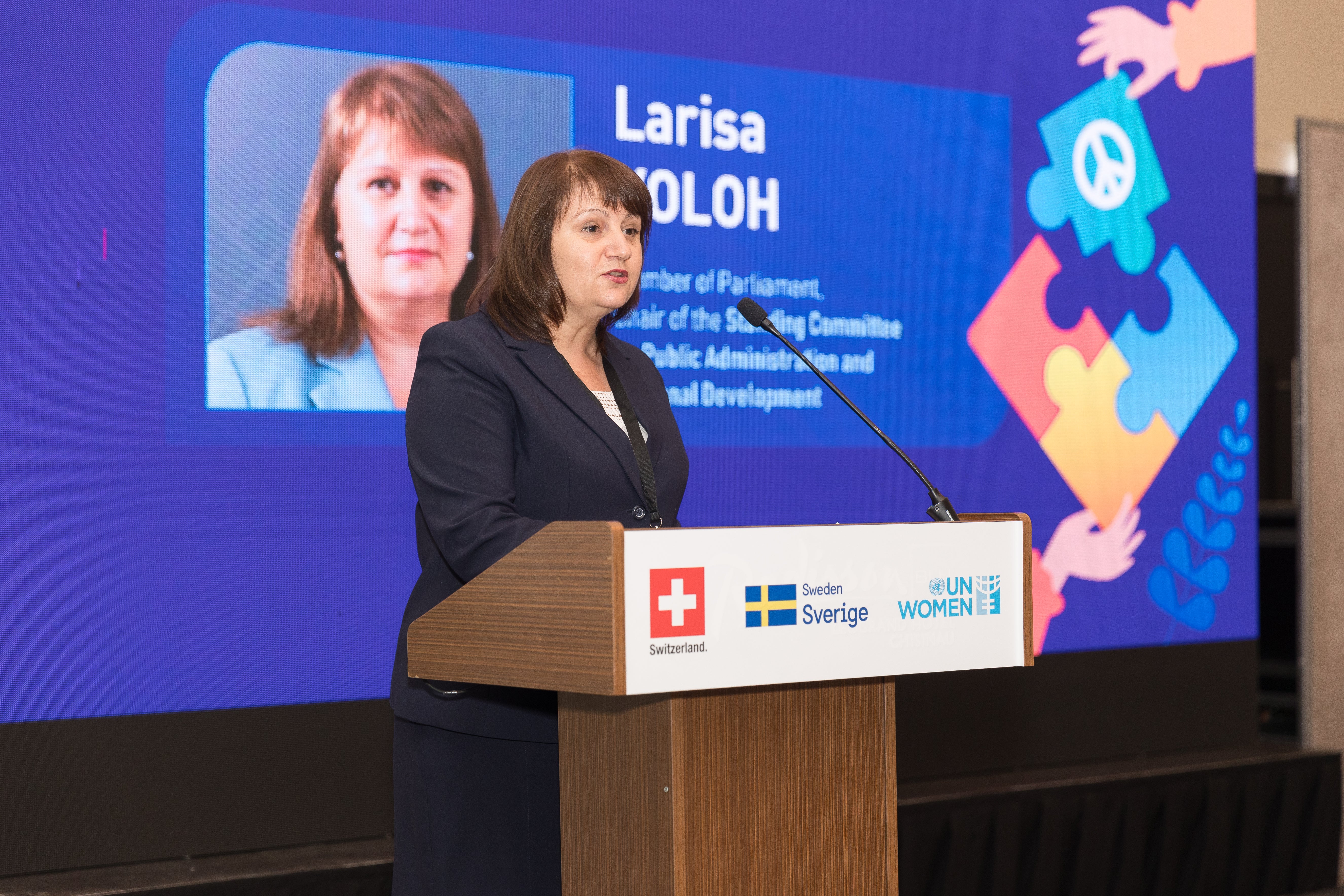 "This conference is an opportunity to discuss the importance of common actions in these difficult times, when it's clear that gender equality is not only a principle but a necessity," said Larisa Voloh, a member of Moldova's Parliament and Chair of its Standing Committee for Public Administration and Regional Development. "The Parliament is open to providing opportunities for refugees and communities to create a framework of understanding and tolerance."
Felicia Bechtoldt, Secretary of State at the Ministry of Labor and Social Protection, spoke about women's dedication in coordinating the humanitarian crisis: "The involvement of women in the humanitarian crisis response is essential and is one of the decisive factors for identifying solutions and ensuring the security of refugees. The participation of women, especially in providing humanitarian assistance and notably in leadership roles, is very important. When there is a diversity of opinions, better decisions are made for people. We know that women have shown dedication and have distinguished themselves in all areas of addressing the humanitarian crisis."
Daniela Misail-Nichitin, State Secretary of the Ministry of Internal Affairs, said the determination of women within Moldova's internal affairs structures to do their jobs, not only in service of security but also with their hearts, helped successfully manage the refugee crisis and maintain the country's stability. "The more than 4,400 women serving Moldova in the Home Affairs system ensured that vulnerable groups received help and kind words when war filled their hearts with fear (…)," she said. "The conference provides a unique opportunity to address these topics, encouraging the exchange of experiences, challenges and lessons learned from women promoting gender equality and peace, as well as leaders working to promote women's meaningful participation in humanitarian response, social cohesion at the community level and peacebuilding, and also to formulate recommendations for advancing the Women, Peace and Security Agenda in Moldova."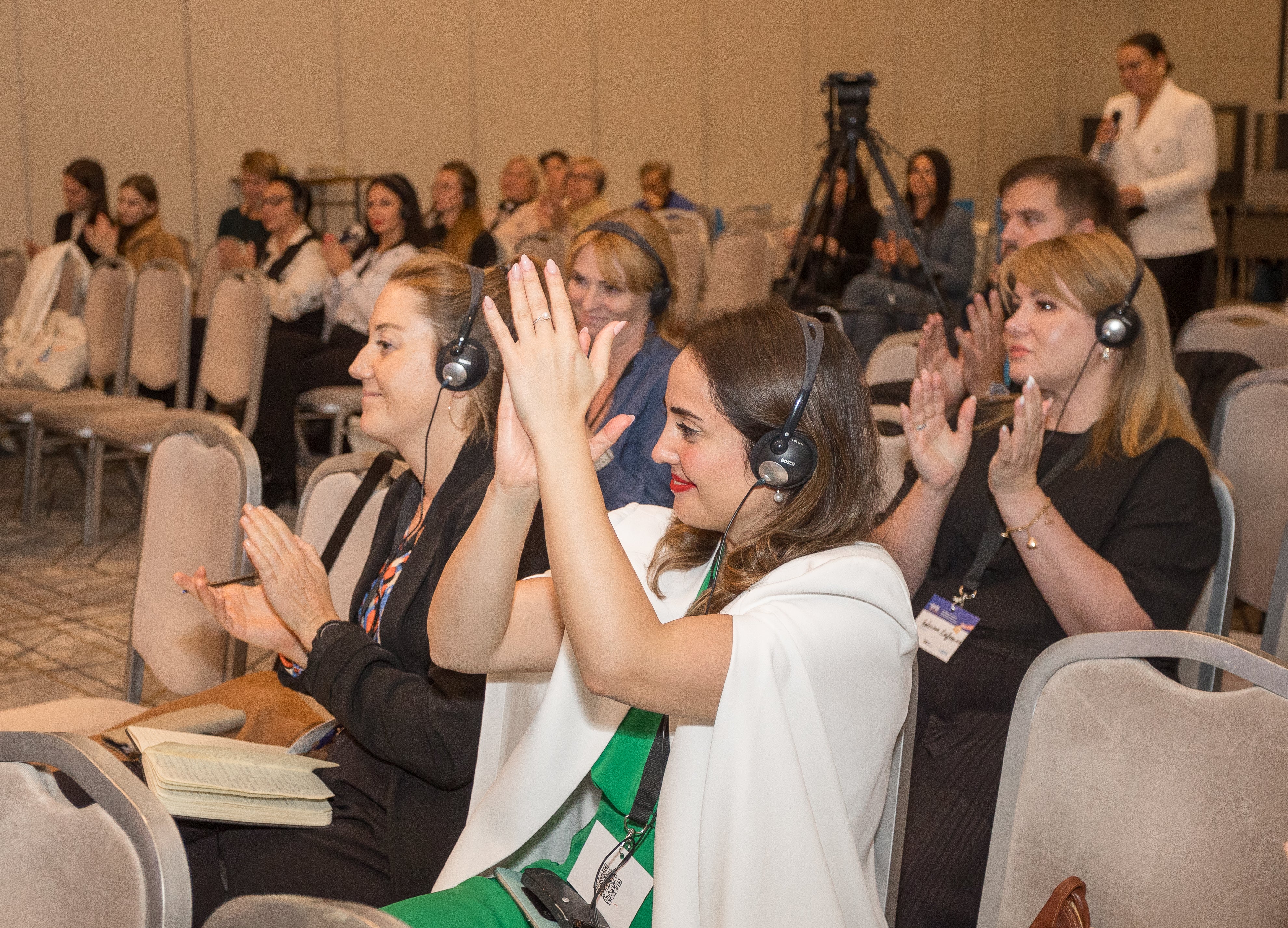 Simon Springett, UN Resident Coordinator in Moldova, stressed that gender equality is a precondition for stability, prosperity and development. "We believe in women's leadership, in their abilities to influence and change the world for the better. When there is conflict in the region, many barriers are created, but together we try to find solutions," he said. "In the Republic of Moldova, the mobilisation of women and women's organisations, as well as the creation of working groups, have strengthened their capacities in delivering humanitarian assistance."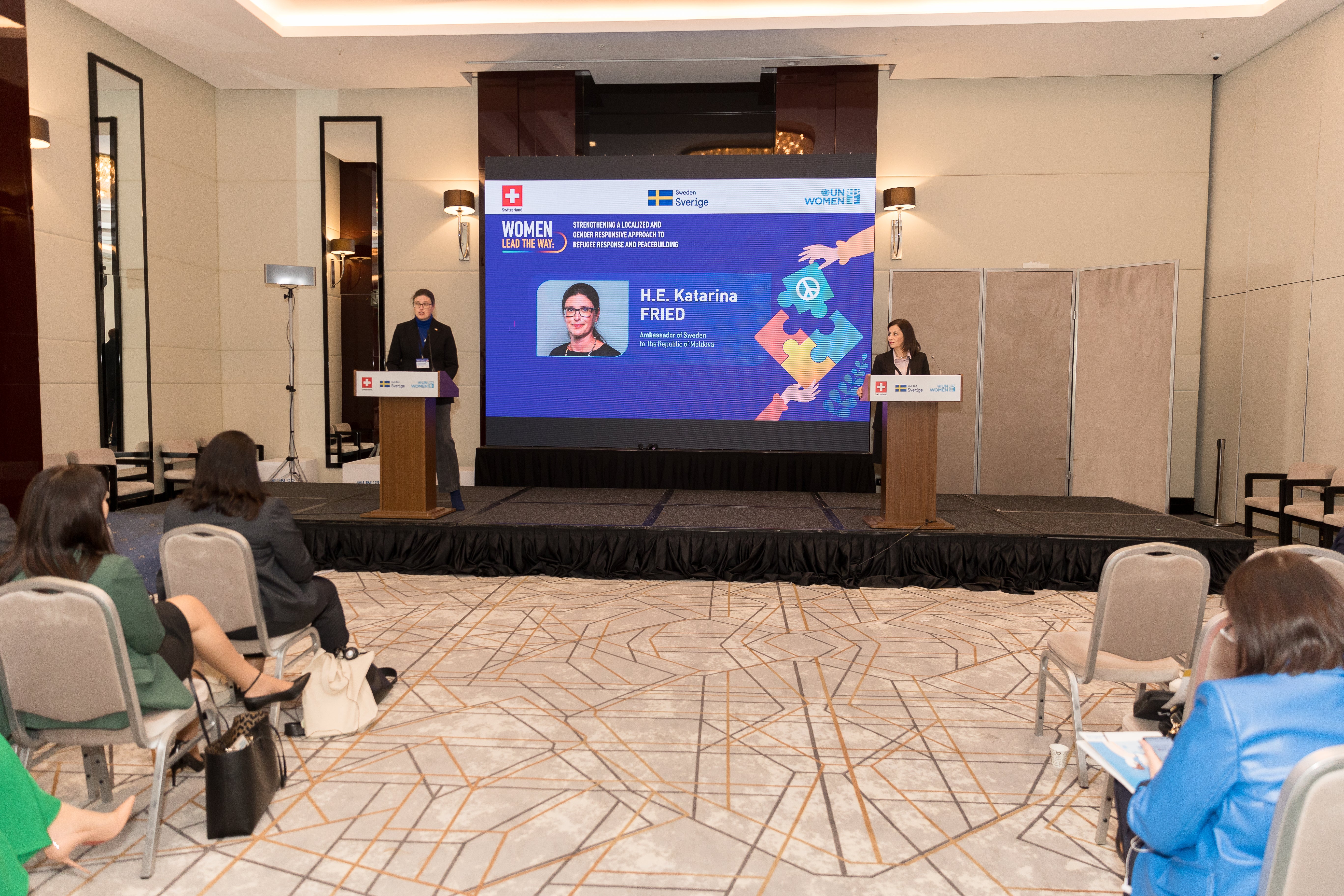 During the conference, Her Excellency Katarina Fried, Ambassador of Sweden to the Republic of Moldova, pointed out the crucial role of women in strengthening resilience, peace and social cohesion and reiterated her country's firm commitment to supporting them. "Sweden is here to provide expertise, assistance and support in encouraging women's involvement in decision-making processes, in political and economic fields, and also in empowering women as promoters of peace and initiators of various projects to ensure sustainable peace in the region," she said. "Only through joint efforts can we change things."
Dr. Guido Beltrani, Director of the Swiss Cooperation Office, stressed the importance of sharing experiences in overcoming crises. "In these uncertain, tense times, it is necessary to include women in our humanitarian assistance efforts," he said. "Our approach is to learn from successful examples of other countries. I would like more and more women, especially from underrepresented groups, to become champions of change."
"The voice of peace can no longer be heard," Francesca Bonelli, UNHCR Representative, said. "We must make the call for peace so strong that it can be no longer ignored."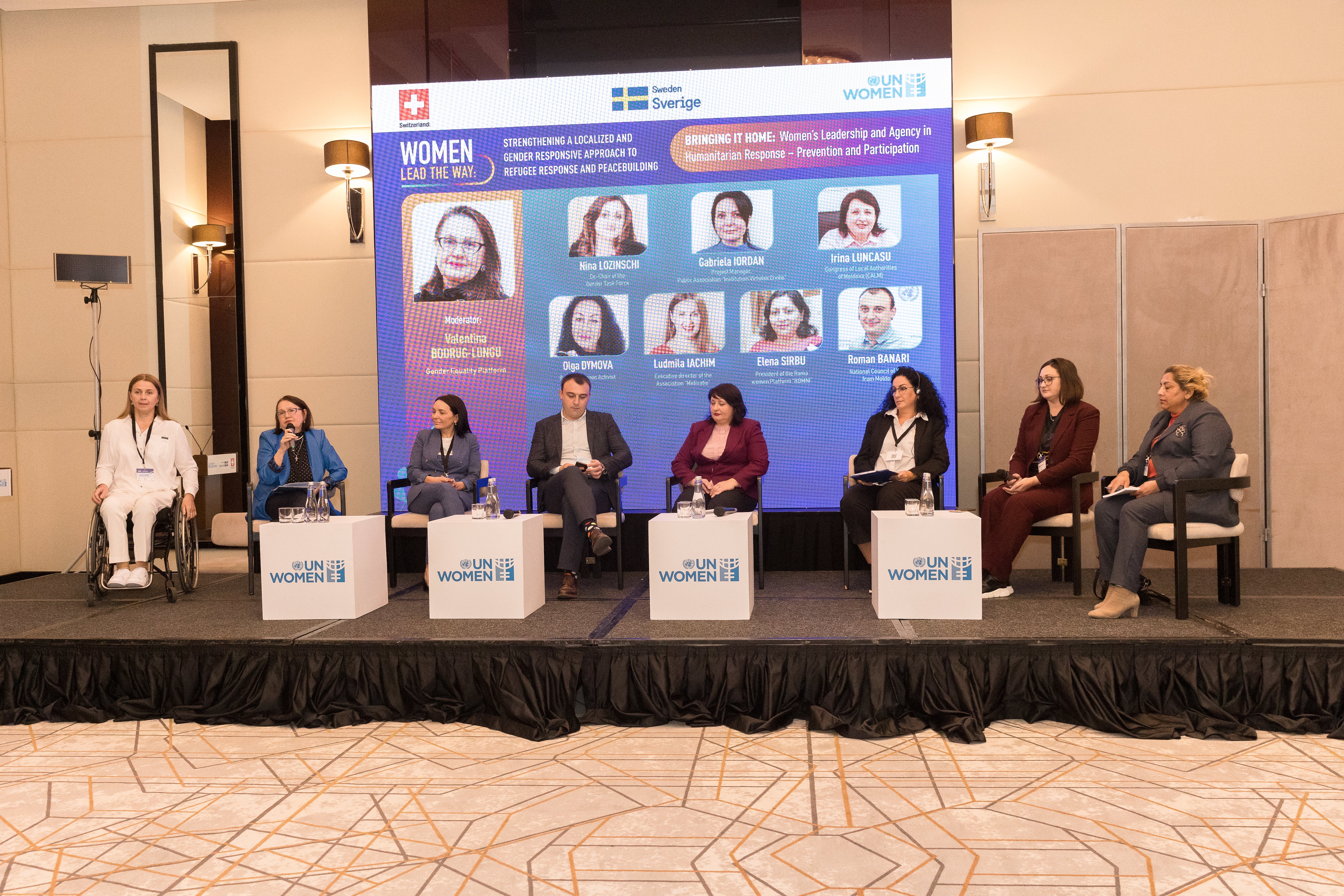 For two days, over 100 women leaders and promoters of peace and equality discussed how localizing the refugee crisis can help ensure social cohesion, integration and peace. The participants formulated recommendations to advance the Women, Peace and Security Agenda not only in Moldova but also in the wider regional context.
The conference was organized with financial support from rom the Swiss Government, within the project "Women Supporting Women: Enhance Resilience and Inclusion of Refugee and Crisis Affected Women Through Community-Based Initiatives", and financial support from Sweden to UN Women Strategic Note Implementation – component related to Women, Peace and Security Agenda.