UN Women Regional Director calls for inter-generational dialogue in Moldova visit
Beijing+25, youth engagement and domestic violence topped the Moldova visit agenda of Ms. Alia El-Yassir, UN Women Regional Director for Europe and Central Asia, who helped open the first Beijing+25 Sub-Regional Expert Consultation for Eastern Partnership countries and Romania. Held 4-5 September in Chisinau, the Beijing+25 conference assessed how far the implementations of the Beijing Declaration and Platform for Action from 1995 had come.
Date:
"While the countries of this region have made strong commitments to gender equality and women´s empowerment in line with international normative frameworks and conventions, they also need to join their efforts to move from de jure commitments to de facto results for every woman and girl, making gender equality a lived reality for all women and girls, everywhere," said Ms. El-Yassir.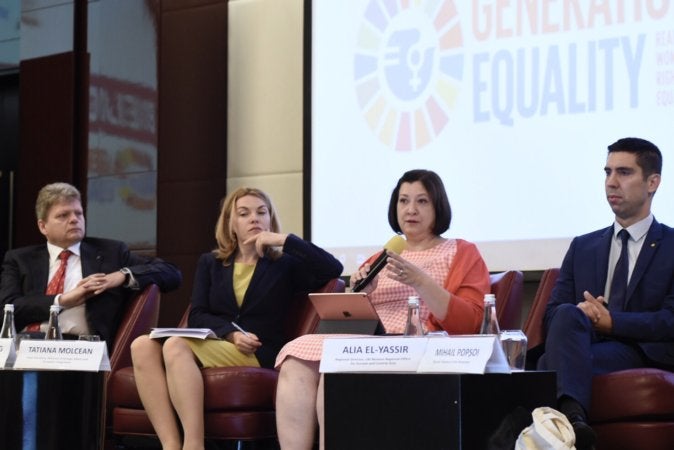 In meetings with government officials, youth representatives, partners and donors during her visit to the Republic of Moldova, Ms. El-Yassir said inter-generational dialogue and stronger civil society engagement were needed to empower women in the region.
In her meeting with Moldovan youth organizations, Ms. El-Yassir discussed their vision to advance women's rights and gender equality and noted the importance of their collaboration with UN Women in promoting both issues.

"It's been 25 years since the Beijing Conference and the situation of the young generation was supposed to be even more progressive than it is now. We need an inter-generation dialogue to ensure that the voices of youth are heard," said Ms. El-Yassir.

During her discussions with Ms. Anna Lyberg, the Sweden Ambassador to the Republic of Moldova, Ms. El-Yassir expressed gratitude for the Swedish Government's generous support to the UN Women Country Office in Moldova. For her part, HE Ambassador Lyberg recognized the successes in aligning UN Women's Strategic Note 2018-2022 with Sweden and Moldova`s gender priorities.

Violence against women and the institutional mechanism on gender equality were the key topics discussed during the bilateral meeting of Ms. El-Yassir with Moldova Prime Minister Maia Sandu. It was convened that all efforts will be undertaken in order to align the normative framework in the field to the provisions of the Council of Europe's Convention on preventing and combating violence against women and domestic violence (Istanbul Convention).
In turn, the UN Women Regional Director acknowledged the Government of Moldova's commitment to integrating gender mainstreaming across public and private sectors, noting the substantial legislative and normative progress made by adopting key strategic documents during 2017-2018.

Ms. El-Yassir concluded her visit by taking part in closing panel discussions of the Beijing+25 Sub-Regional Consultation which emphasized the importance of civil society engagement, consultation, and partnership in promoting gender equality and women's empowerment.