UN Women Moldova awarded 10 women who made history in Moldova
Date: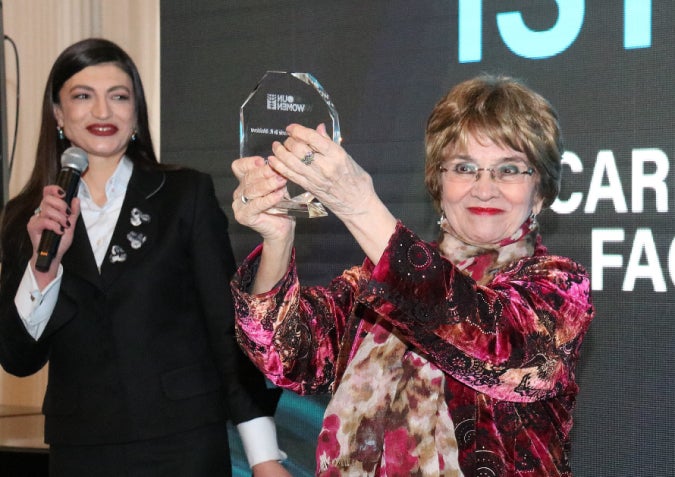 10 women who made history in the Republic of Moldova, and were the "firsts" in male-dominated fields such as politics, sports, military, business, science, engineering, were awarded by UN Women Moldova.
The award ceremony is the culmination of the "You know you can" campaign, ran by UN Women Moldova during the month of March, to encourage women and girls from Moldova to assert themselves as leaders and professionals in all fields.
Svetlana Cojocaru is the first ever female Head of the Institute of Mathematics and Computer Science of the Academy of Sciences of Moldova. As she received her award she said: "Thank you, I am honoured and I am grateful. By choosing me as one of the 10 women who made history in our country, in fact you value the science and research in Moldova. Through this campaign, an enormous contribution has been made to this field that I represent."
Varvara Duminica was awarded for being one of the first two Roma women elected as local councillors in Moldova. She said: "Roma women are just beginning to get more involved in the social and public life. So, I urge other Roma women to take the challenge and get actively involved."
Here are the stories of the 10 women who made history, and were awarded at the first edition of "You know you can" campaign:
"This campaign aims at making the stories of the exceptional women from Moldova more visible. I want to thank our heroines for accepting to be part of this campaign, for sharing their experiences, successes, struggles and life lessons. What we have learned from their stories is that persistence and courage transcend stereotypes and doubts and overcome difficulties," said Asya Varbanova, Acting Head of Office at UN Women Moldova.
Signe Burgstaller, Ambassador of Sweden in Moldova, Julia Monar, Ambassador of Germany, Simone Giger, Director of Swiss Development Cooperation in Moldova, and Anna Akhalkatsi, World Bank Country Manager, have expressed messages of support for gender equality in Moldova and shared their own experiences of being women in a male-dominated field, stressing that this is a universal issue.
Signe Burgstaller, Ambassador of Sweden in the Republic of Moldova, stated: "I would like to congratulate all these wonderful women who are champions in different masculinized professional fields and who have made history in Moldova. You are true models and sources of inspiration for Moldovan women and girls, thereby motivating them to take their destiny in their own hands'.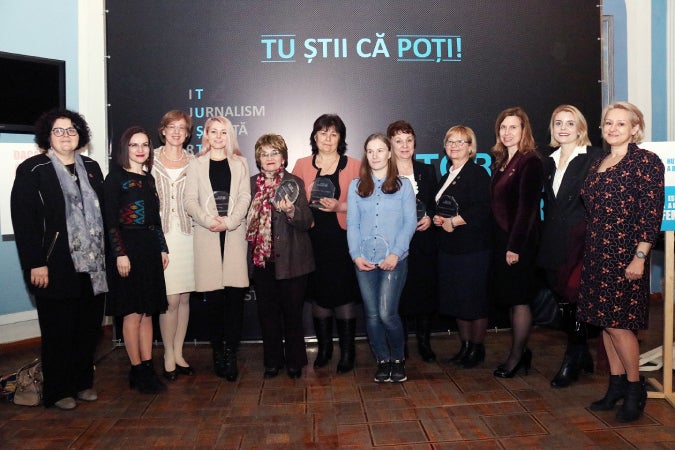 The illustrated speech "Gender Equality in the Republic of Moldova: Where we are and where we are going", showing Moldova's gaps regarding gender equality and women's rights, including on the labour market, was presented during the event. Although there are more girls than boys in secondary and tertiary education as per official data, this does not transpose into equal employment opportunities. Women's employment rate is 39%, compared to 43% for men, and women earn on average 14.5% less than men, i.e. 11.417 lei a year less (CPD, 2016). The pay gap is significantly higher in better-paid sectors, such as Information Technology (33%) and Finance (41%).
Also, 6 out of 10 women in Moldova experienced at least one form of violence (physical, psychological, sexual) from husband or partner during their lifetime.
In Moldova, the representation of women in politics and in decision-making processes is currently under international commitments. Women represent only 22% of the Members of Parliament, 38% of the Ministers, 21% of mayors, 30% of local councillors, and 19% of district councillors. Since Independence, the percentage of women in the Moldovan Parliament ranged from 4% to 25%.
During the award ceremony, a temporary photo exhibition was launched at the History Museum of Moldova, to promote the stories and messages of the 10 women awarded for making history, meant to inspire other girls and women.
This event was organized in partnership with the History Museum of Moldova and with the support of the Government of Sweden.