In the words of Elena Casapciuc: "The value and importance of women working in IT must be highlighted"
Date:
Women have a significant importance in the field of IT and are essential for a balanced and innovative industry. Elena Casapciuc is a young woman from Chișinău who believes that focusing on our passions is the key to becoming happy with ourselves. Since childhood, her greatest passion has been math and drawing. Then, she found programming. As an introverted child, she had a hard time integrating into groups, but pursuing IT brought her out of her comfort zone. She ended up graduating with a master's degree in mathematics and computer science and now has a job at a local company that develops video games. Today, Elena is working on a passion project called "Codobelc Gomes," in which she creates educational games for children.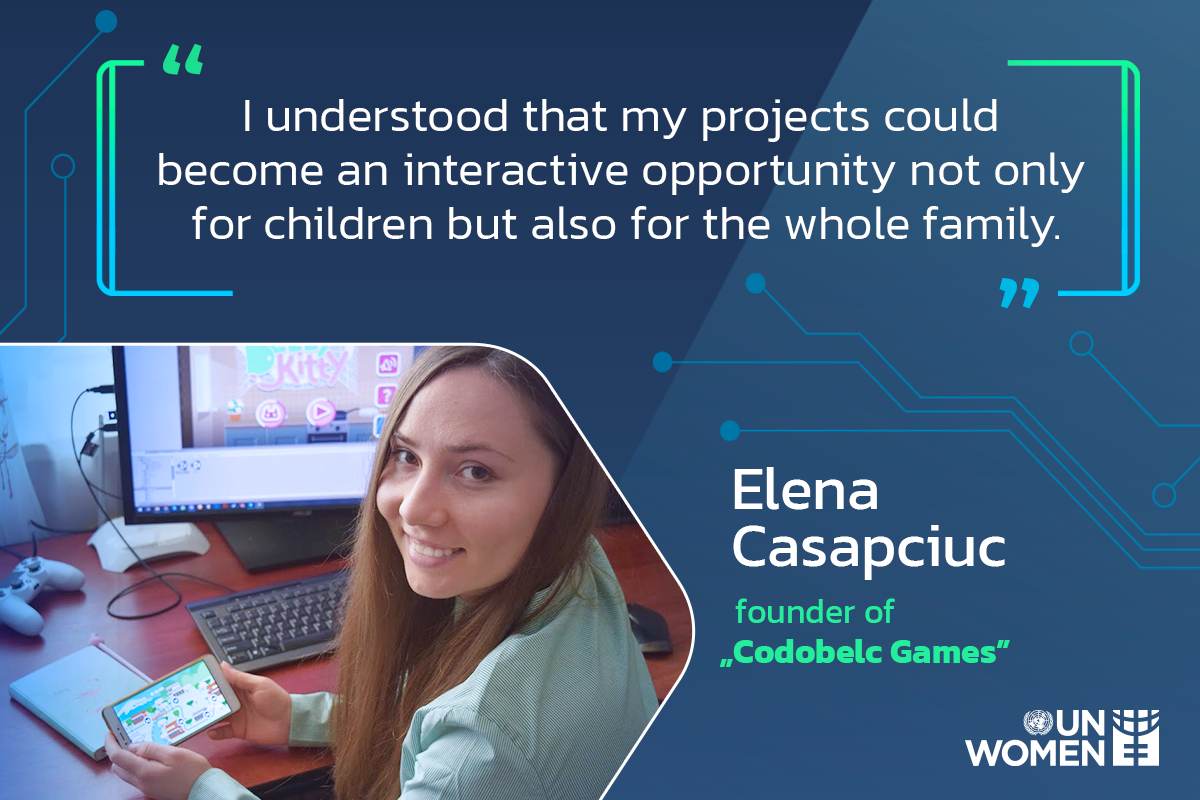 "A friend was the one who helped me leave my uncertainty behind and discover the IT industry. At first, I thought it was a more suitable field for men, but I immediately remembered that if my grandmother managed to be a physics teacher for so many years – physics being considered a discipline more suitable for men at the time – then I could definitely succeed too! Today, I see this as an opportunity. In the past decade, we have seen how everything related to IT is developing at a rapid pace and bringing changes to all aspects of life.
I developed my passion for computers while studying in college. I've noticed that technologies give consumers more power and more choice, and the hours spent in front of the computer made me develop my creativity even more. 
Like other children, my younger brother is passionate about phones, so my mother tried to find an educational gaming app in Romanian to teach him letters. Having developed video games, I immediately started working on this. This is how I came to create the project "Abecedar". I was very glad I could find a solution for my brother. After that, I created "Belly Kitty" and "Math Fish".
Through these games, children are put in a position to identify solutions and make decisions. The purpose of educational games is to develop children's creativity, logic, teamwork skills, flexible thinking and spatial awareness. With time, I understood that my projects could become an interactive opportunity not only for children but also for the whole family, allowing them to spend quality time at home and learn new things through games.
Personally, I feel good when a funny and colourful script I created finally takes shape. For this, you need to have design, engineering, programming and analytical thinking skills – skills that any woman can have.
In my opinion, a team works and develops better when gender equality is applied. Why? Because the mix of ideas, cultures, voices and skills leads to discussions, decisions and better results for everyone."
Elena is a beneficiary of the pre-acceleration programme for girls and women, implemented with the support of UN Women Moldova and financial support from the Government of Sweden. During the programme, she had the opportunity to interact with and receive support from professionals in entrepreneurship, finance, communication, sales and other key areas. This article was developed for International Women's Day, under the theme "DigitALL: Innovation and Technology for Gender Equality".