Art therapy: 5 pieces of art made by survivors of domestic violence, exhibited at the Parliament of the Republic of Moldova
20 women, survivors of domestic violence, benefited from art therapy. Thus, throughout November, they have participated in several workshops, which culminated in 5 symbolic works of art reflecting their life stories, the way from suffering to freedom, and recovery of faith for a safe future. The pieces of art have been exhibited on Friday, 10 December, at the Parliament of the Republic of Moldova, within an event celebrating this art experience.
Date: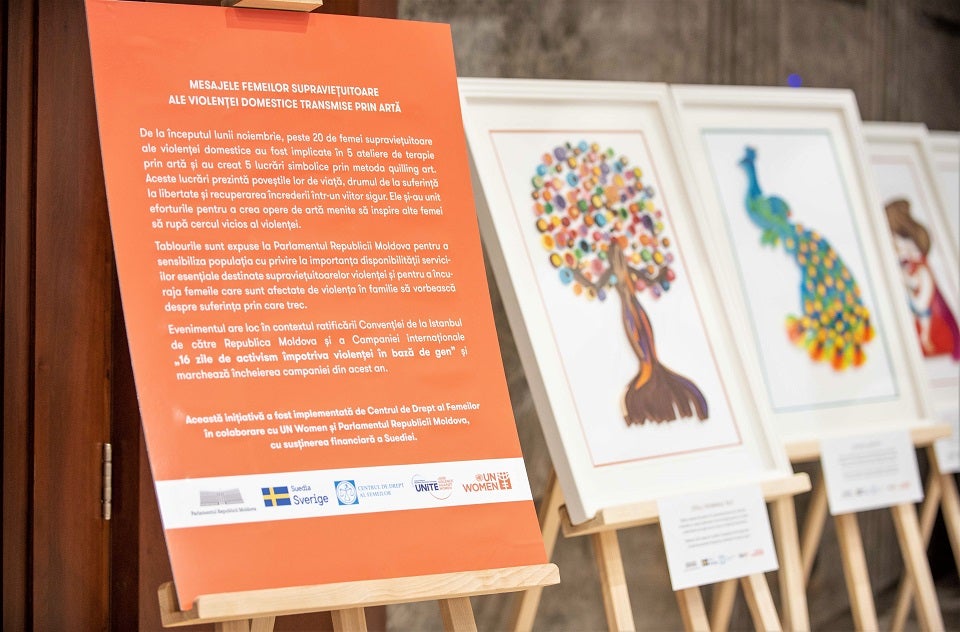 Credit: Women's Right Center
The event "Messages through art" is organised in the context of the ratification of the Istanbul Convention by the Republic of Moldova and "16 Days of Activism Against Gender-Based Violence" international campaign. The initiative has been implemented by Women's Law Center, in collaboration with UN Women and the Parliament of the Republic of Moldova, with financial support from Sweden.
The aim of the event is to raise awareness among authorities and general public on the severity of domestic violence, as well as to underline the importance of specialised services and support survivors of violence need.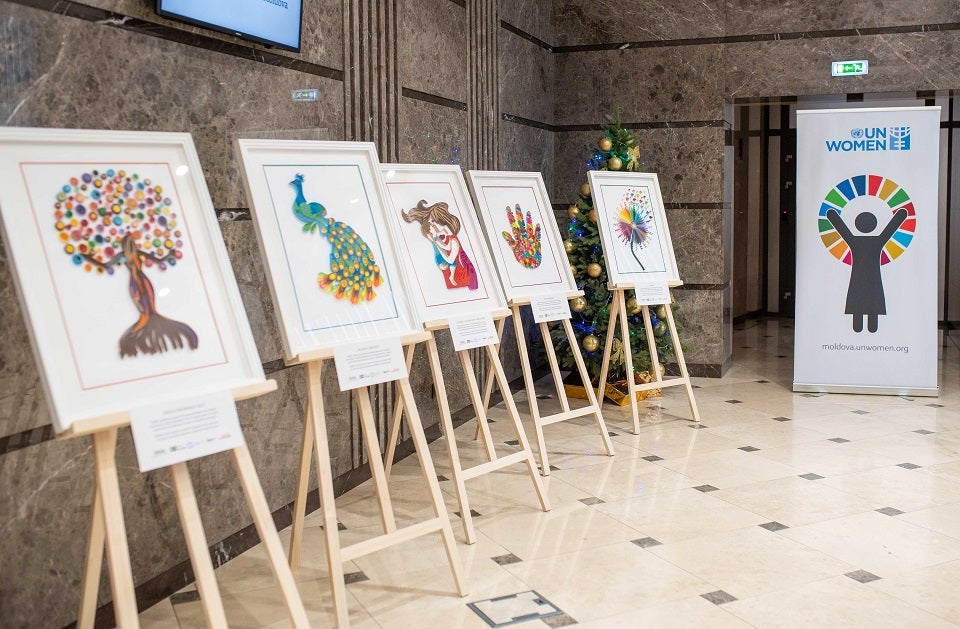 Credit: Women's Right Center
Doina Gherman, the President of the Parliamentary Commission on Foreign Affairs and European Integration: "Today, on International Human Rights Day - a day full of symbolism, I am very happy that we managed to have this event. Violence against women is a serious violation of human rights, and we, as members of the Parliament and as legislators, have managed this year to raise the phenomenon of violence against women to the level of a violation of human rights. This was officially done by ratifying the Council of Europe Convention on Preventing and Combating violence against women and domestic violence. I am very proud that the Republic of Moldova has become the 35th state in the world that has found the courage and truly sided with the victims of domestic violence. And here I am referring to children and men, I am referring to the elderly. All of us, as a society, must unite, to stand in solidarity against this scourge that, unfortunately, completely dominates our country. I promise you that I will make every effort and we, here in Parliament, will find that political will to implement all the provisions of the Istanbul Convention."
Katarina Fried, the Ambassador of Sweden to the Republic of Moldova: "It is crucial to remain committed to ending all forms of violence and we hope that this joint spirit of cooperation between organizations and public institutions that we've witnessed during "16 days campaign" could be kept during the rest of the days and used in the multitude of programmes and projects that are running all around the country. There is definitely a need to do more to support victims and hold perpetrators accountable".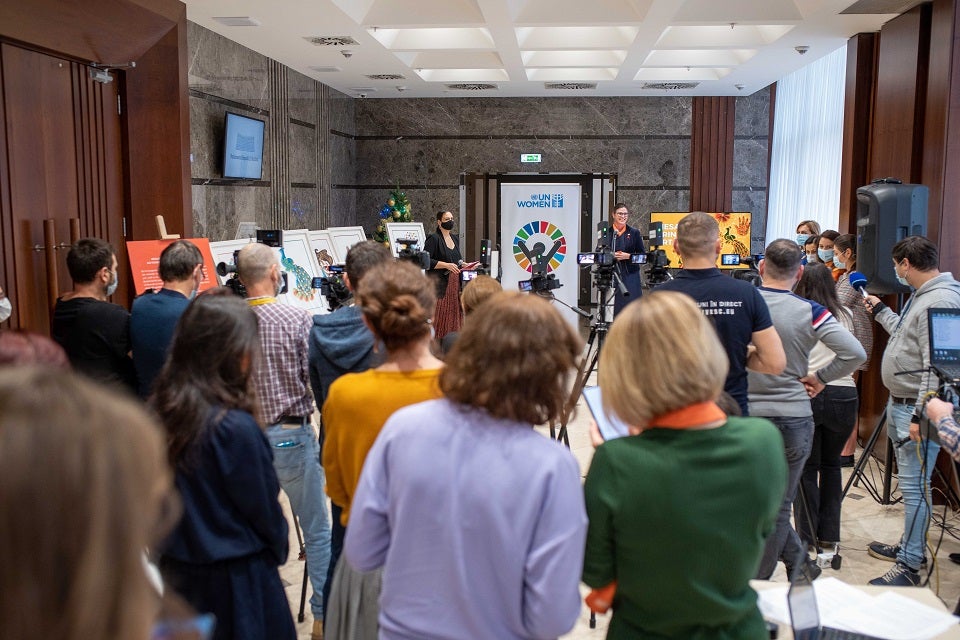 Credit: Women's Right Center
Within the workshops, women joined their efforts to make pieces of art in quilling art techniques. These Works of art are meant to inspire other women to break the vicious circle of violence. Those 5 works of art have suggestive names"Everything is in your hands", "The bird of freedom", "I feel safe in your arms", "Stop violence" and "Free". These Works reflect power of decision making, freedom of making changes and self-confidence.
In these pieces of art we can find universal symbols, such as: tree of life, peacock or a child in their mother's arms. These are symbols illustrating protection, fight and new possibilities for a life in dignity and safety.
Credit: Women's Right Center
Dominika Stojanoska, UN Women Moldova Country Representative: "I strongly believe that voices of women survivors offering solutions on accessing essential services, on supporting other women overcoming stigma and on building trust and hope for others is making a big difference to the overall response to gender based violence. It is our responsibility to listen, believe and support survivors altogether as well as creating environments where the perpetrators are held accountable".
Women's law center has been conducting art therapy workshops since 2018. The specialists working for the center confirm the necessity of having such activities for safety and comfort of women who have experienced domestic violence. At the same time, art therapy boosts interaction, reduces isolation and develops creative skills. These activities connect women, help them express their feelings and gain more courage.
Mariana Buruiana, Women's Law Center Executive Director: "We are happy that we can offer to these women healing experiences, that we can be around them not only by this type of activities but also providing legal, psychological and social support. As a day center, we would like that women experiencing domestic violence understand and feel that they are not alone, that there are professionals who can guide them, explain and offer solutions. We urge women who find themselves in these pieces of art to get inspired and choose a safe life"
Credit: Women's Right Center
Those who watched the event online, had the opportunity to get familiar with the atmosphere of the workshops via a video filmed during the work process. The event culminated with a Parliament tour, organised specially for the participants of the event. The online event can be watched here.
"16 Days of Activism Against Gender-Based Violence" is an anual campaign organised by UN Women globally. It kicks off on November 25th and culminates on December 10th, symbolising that gender-based violence is a violation of fundamental human rights. This year, the campaign focused on the condition of women during the COVID-19 pandemic, as many of them have to live in abusive environments, and they need help.
About WLC
Women's Law Center (WLC) is a non-guvernamental organisation advocating for equal opportunities for women and men in public and family life, contributing to preventing and combating violence against women and girls. Over 670 women are being supported yearly. They receive legal, psychological and social support. At the same time, the organisation contributes to strengthening capacities of professionals in this field, research and analysis, monitoring national legislation and aligning it to international standards.