A dialogue with survivors of violence took place at the Parliament of the Republic of Moldova
On November 25th 2021, a dialogue with survivors of violence took place. The event has been organised by the Parliament of the Republic of Moldova and UN Women, in partnership with the Embassy of Sweden, in the framework of UN Secretary-General's campaign, which marks the annual campaign on the elimination of violence against women "16 Days of Activism Against Gender-Based Violence".
Date: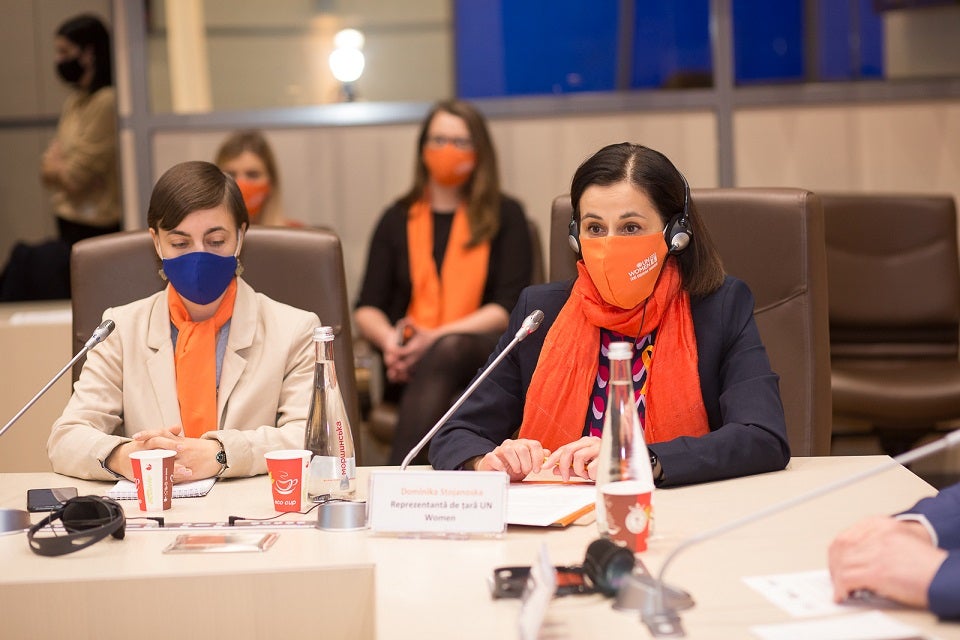 Credit: UN Women Moldova
The aim of the event was to make heard voices and perspectives of women survivors of gender-based violence. The event brought together the representatives of the Parliament, Government, civil society and development partners with women survivors of violence, to jointly call for the elimination of gender-based violence.
The survivors of violence have started the dialogue, being key-speakers, illustrating the courage of a big number of women who have experienced violence, are ready to speak up, and have found solutions for a better prevention, protection and access to justice. Also, they presented recommendations for a coordinated, efficient response, for the establishment of specialised services, and for having similar dialogues in the future, to develop certain laws and policies to eliminate gender-based violence.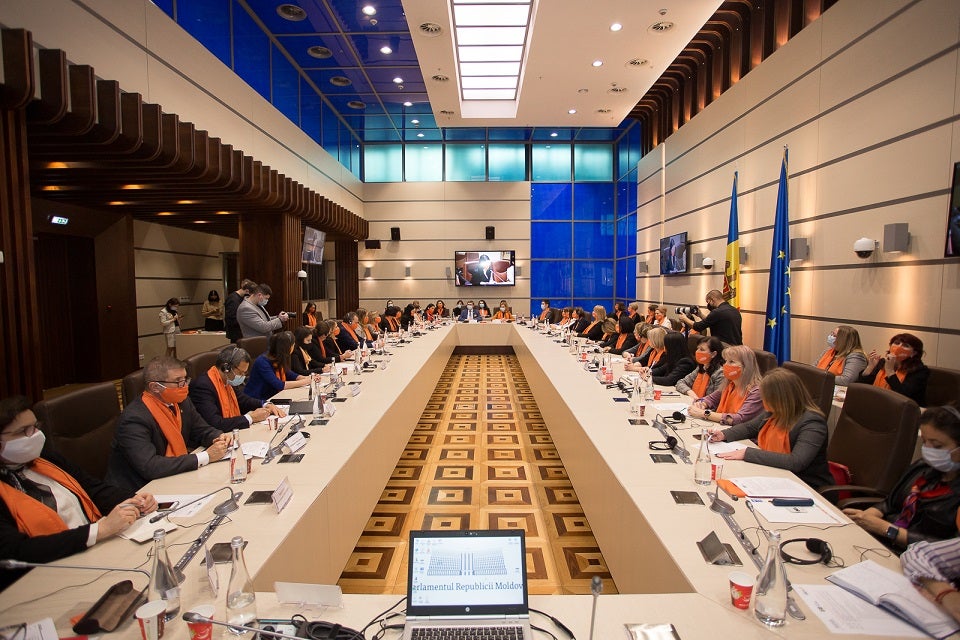 Credit: UN Women Moldova
«The new generation, the teenagers, should receive a mandatory and correct education on violence, at school. We need tools to be prepared for real life. We need support. Teach us in schools, regularly and firmly, about consent, about gender stereotypes, how to build healthy relationships and how to recognize unhealthy ones. About our resources and our bodies." a survivor of sexual violence mentioned.
"I would like to encourage women, girls and any other person to speak up, to request help if they are in a difficult situation. For me the best solution were support groups. They are very welcome but the time to stay in such centres for women and girls is too short, and there is a need of having a service provided by the state, social houses or flats, which will subsequently help in monitoring women seeking a permanent home, a job, a school or kindergarten for children, and other essential services." a survivor of domestic violence declared.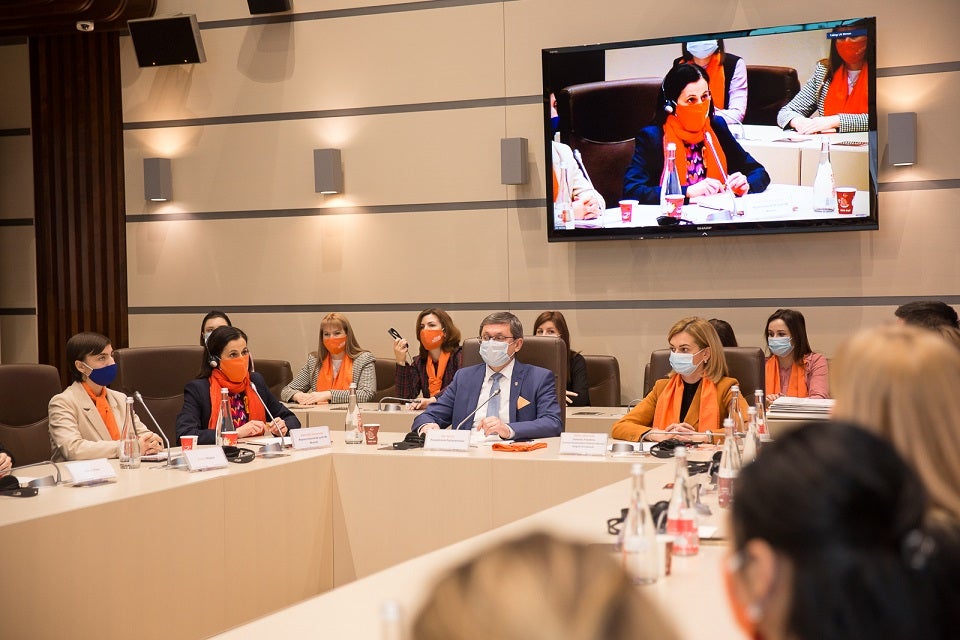 Credit: UN Women Moldova
"From my personal experience I would like to say that, first of all, a victim needs support from qualified specialists, multidisciplinary teams, which consist of social workers, psychologists, police officers, lawyers, mayors in severe cases, to have the courage to take the first step towards breaking the silence, and saving their lives and lives of their children." another survivor of domestic violence said.
Other participants came up with common actions and initiatives, as well as solutions to eliminate violence against women and girls, via legal reforms, policy initiatives, implementation of prevention and response programmes, etc.
The President of the Parliament, Igor Grosu, appreciated the courage of survivors to speak up, and their decisive role. "From my side and on behalf of the Parliament, I assure you that you will always have trustworthy partners in terms of coming up with solutions to your problems. We know our task, thus there is the need of improving elimination of violence against women services at national level, to eradicate this phenomenon. At the same time, education is crucial in terms of preventing any form of violence, as children are the promotors of new patterns for new generations", the President of the Parliament declared.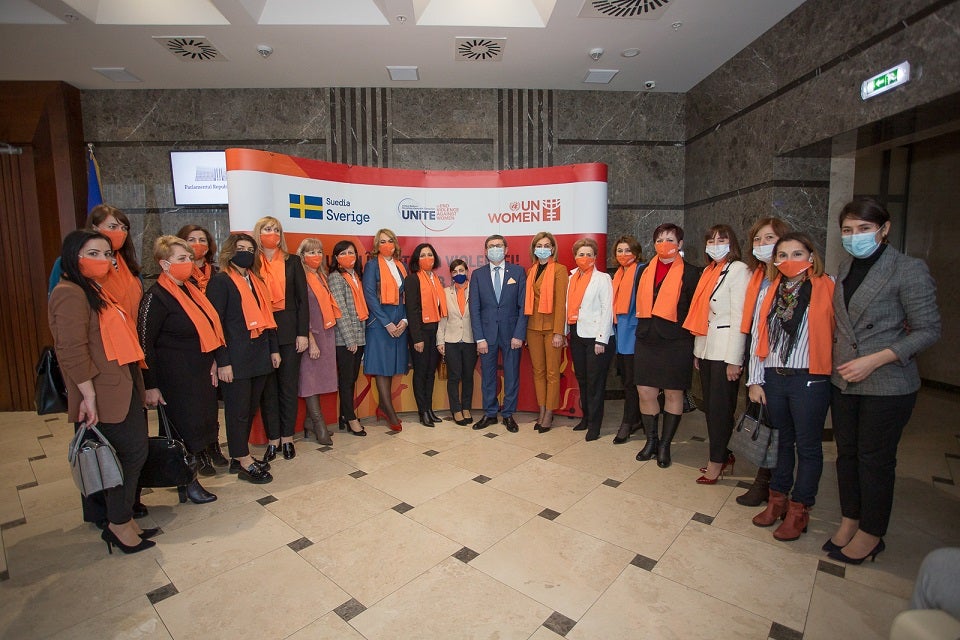 Credit: UN Women Moldova
In order to support those whose voices are not heard, we urge women and men to get involved, to follow and share the products disseminated on UN Women Moldova and ONU Moldova social media pages, using the hashtags #OrangeTheWorld #16Days; and to "orange" workplaces and outfits.
Together we are united against violence!
Note: In the Republic of Moldova, this campaign is organised 20 years consecutively, by the Government of the Republic of Moldova, local authorities, international organisations and civil society. The colour of the campaign is orange, symbolising a  brighter future for all women and girls.