Gabriela Mogildan, UN Women Moldova volunteer: "Due to the fact that many people with disabilities are unemployed, their problems remain almost invisible"
Gabriela Mogildan decided to become a volunteer within UN Women Moldova because, according to her, the Republic of Moldova is still facing complex, systemic cultural barriers in terms of gender equality. This is particularly interesting for Gabriela as she is visually impaired. However, she believes this can not be a defining feature.
Date:
Gabriela Mogildan UN Women Volunteer. Credit: UN Women Moldova/ Stela Dontu.
"I think we have just started making certain steps towards equality. I always encountered different challenges. I was always outraged to hear that women and girls can not do certain things, wear whatever they want or say whatever they want. I was happy to find out about this volunteer opportunity because I realised that I would be able to promote gender equality in Moldova", Gabriela says.
She joined the UN Women Moldova team after facing systemic discriminatory situations, happening not only because of her gender but also because of her vision, which was often taken as her primary characteristic.
"Of course, I was often discriminated primarily because of my vision and because of my gender as well, gender-based discrimination being not so frequent and impactful though. I encountered many challenges because of my disability, especially when I was going to start a new stage. I was initially rejected in the school, in the college, in the university. I was always told that I had to stay home because "I was too ambitious and I had too many dreams in my condition". There were tense situations when nobody was glad to see me but I met more open-minded people as well. I had a very good relationship with my university lecturers, and I have learned a lot from them", she says.
For Gabriela, her volunteer position within UN Women Moldova is a confirmation that more institutions have to get more inclusive in integrating people belonging to different groups, as well as focusing on the facilitation of people with disabilities development. According to her, their systemic exclusion can not be solved if minor or isolated activities are being done. And due to the fact that not so many people with disabilities are employed, their problems are almost invisible.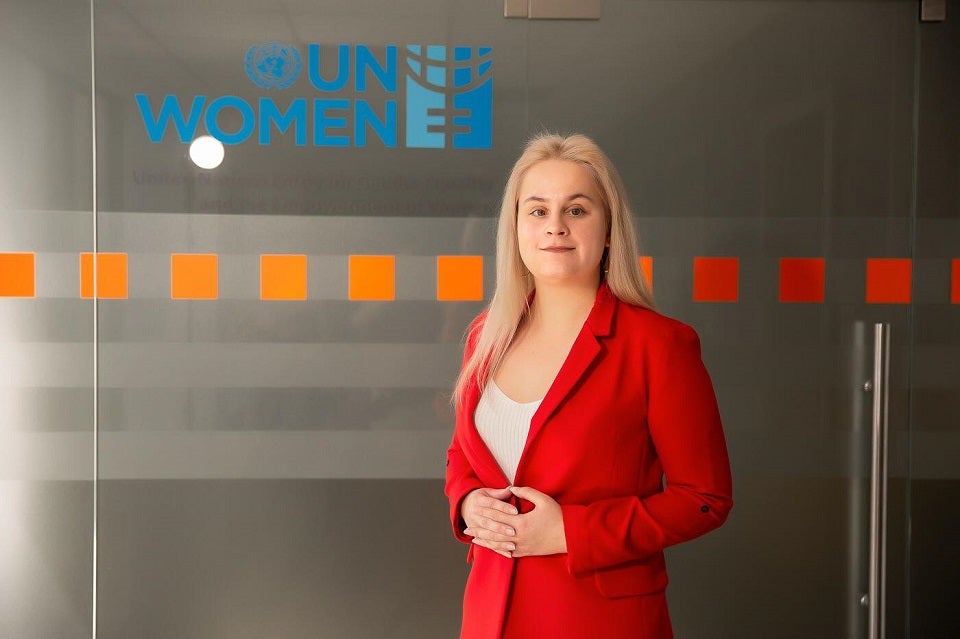 Gabriela Mogildan UN Women Volunteer. Credit: UN Women Moldova/ Stela Dontu.
"When I started working for UN Women Moldova, I was pleasantly surprised. Many inclusion projects are being implemented and discussed in Moldova but, as a visually impaired person, I can say that even if we see certain progresses, they are often insignificant. There is still a lot to be done, and mentality plays a critical role. Within UN Women team, There is a warm and welcoming atmosphere, and nobody emphasizes my situation. Nobody focused on the fact that the new team member had a visual empairment. It was not the central point in our collaboration. On the contrary, I am treated as a young specialist who has particular tasks within the organisation", Gabriela says.
Among other things, Gabriela's duties within UN Women include translation tasks. She is going to keep working on legal translations in the future. In her work, Gabriela uses special programmes, which help her translate rapidly, in real time.
"I use speech synthesizers. These are voices we hear when using artificial intelligence software. I use a free programme. I have learned how to use it by myself, and it helps me translate texts in real time. Everything is available and accessible. I can navigate through internet, I can translate texts, and do almost everything using a computer", Gabriela says.
An important aspect related to diversity and integration of people with disabilities is the creation of programmes and strategies designed for them in all spheres of life.
"I would like Moldova to overcome another challenge people with disabilities have to face. They are always told that they should work with people having the same situation. As a rule, people with visual disabilities are convinced to look for jobs where they are expected to work with their hands but they are not encouraged to look for jobs where computer skills are needed, although there are such opportunities nowadays. There is an opinion that those without physical disabilities live in a world of continuous change, which is very rapid. And people with disabilities are not able to overcome all challenges in these circumstances. Not so many people dare but I was interested to see wether I would be able to have the same work speed as other team members. I think I succeeded".
At last, Gabriela calls women and girls, boys and men to keep following their goals and to persevere.
"I think the most important is to have a goal, and not to listen to anyone. It is important to do things you enjoy. You will be rewarded for the effort and time you dedicated to your ambitions".
The United Nations Volunteers (UNV) programme is the UN organization that promotes volunteerism to support peace and development worldwide. This assignment is part of the Talent Programme for Professionals with Disabilities. The programme seeks to: enhance the employability and career prospects of young professionals with disabilitiess; build a talent pipeline of qualified professionals with disabilities who can contribute to the attainment of the Sustainable Development Goals (SDGs) at national and global levels.