12 New communities will become gender equality champions in Cahul and Ungheni
12 communities from Cahul and Ungheni committed to promote gender equality during the partnership extension event as part of EVA Project — Strengthened Gender Action in Cahul and Ungheni districts, funded by European Union and implemented by UN Women Moldova in partnership with UNICEF.
Date: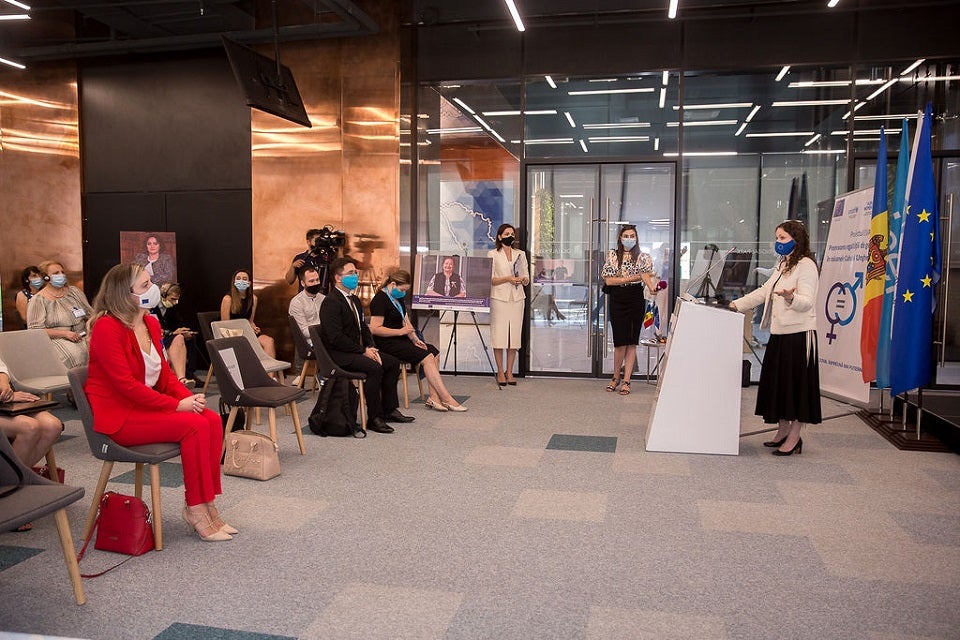 During the event, Memorandums of Cooperation were officially signed with local public authorities from  Pelinei, Cucoara, Alexanderfeld, Vadul lui Isac, Alexandru Ioan Cuza, Baurci-Moldoveni from Cahul district and Cornești village, Cornești town, Costuleni, Sculeni, Teșcureni, Valea Mare from Ungheni district. The mayors of these settlements, future gender equality champions, received sets of IT equipment consisting of a laptop, a docking station to connect to large monitors, a monitor, a printer with scanner, a projector, a mobile tripod projection screen, as well the needed accessories for the good operation of institutions.
Magdalena Mueller-Uri, Head of Operations Section at the Delegation of the European Union to the Republic of Moldovan, stated that Covid-19 pandemic revealed a number of challenges and encouraged EVA Project partners, representatives of the civil society and local public authorities to provide the needed support to beneficiaries in order to obtain tangible results and improve the lives of inhabitants of the two districts in terms of gender equality. She also underlined that gender equality was a priority on the European Union agenda, and the IT equipment would contribute to healthy development of communities and would enhance the transparency and involvement of women and men in the local decision-making.
Alexandra Piscunov, mayor of Vadul lui Isac village, Cahul district, said she was proud to be part of the first Moldovan communities to include behavioural objectives in their local strategies and to apply social innovation, as well as positive deviance to promote and support gender equality in the community, and Alexei Antoci, mayor of Valea Mare from Ungheni district said that thanks to EVA Project they would be able to apply locally the best European practices, make their budgets gender sensible, thus helping develop a healthy society.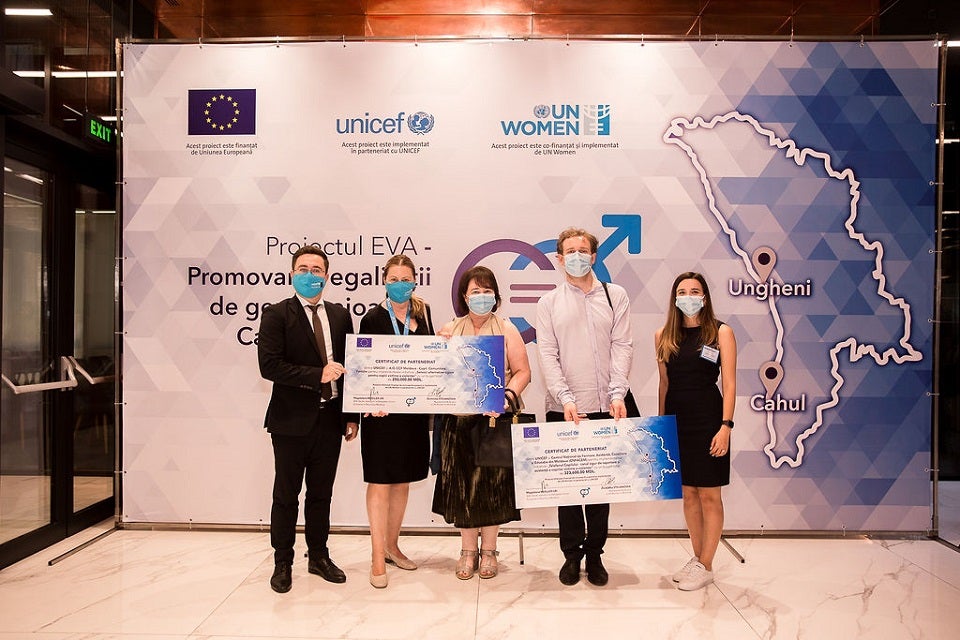 A series of new partnership agreements were also signed with the civil society, including Terre des Hommes (TdH), Center Partnership for Development (CPD), Association of Independent Press (API), Child, Community, Family (CCF) and National Centre for Training, Assistance, Counselling and Education from Moldova (CNFACEM)
.
During the partnership extension event local initiatives for LPAs were announced, as well as the 9 grants that will be offered to representatives of the civil society from Cahul and Ungheni for gender equality promotion and women empowerment in Cahul and Ungheni districts.
Dominika Stojanoska, UN Women Moldova Country Representative, reiterated that the extended partnerships under EVA Project would ensure equal rights and opportunities to improve the lives of women and men, girls and boys from these two districts. 'We are thrilled with these new partnerships, including with local organisations, as they will ensure sustainability and will support the efforts of promoting gender equality in the community. EVA Project is a complex and promising project, via which, together with local LPAs and the civil society, we intend to develop policies and budgets that will meet the different needs of women and men, and the multidisciplinary teams will be involved more in preventing gender-based violence and protecting girls and women.
Ilija Talev, Deputy Representative of UNICEF Moldova declared that 'We will continue working with mothers, fathers, teachers, doctors, local press etc. to prevent violence against children, and promote gender equality in Cahul and Ungheni by extending these partnerships. We hope that the benefits will be replicated not only in these districts, but in other Moldovan communities as well. The new partnerships will help us advance and improve the capacities of local media in raising awareness and ethical reporting issues of violence against children and gender-based violence, we will implement safe alternative solutions for child victims of violence, and we will focus in particular on the Child's Phone - a safe channel for reporting and provision of support to child victims of violence.'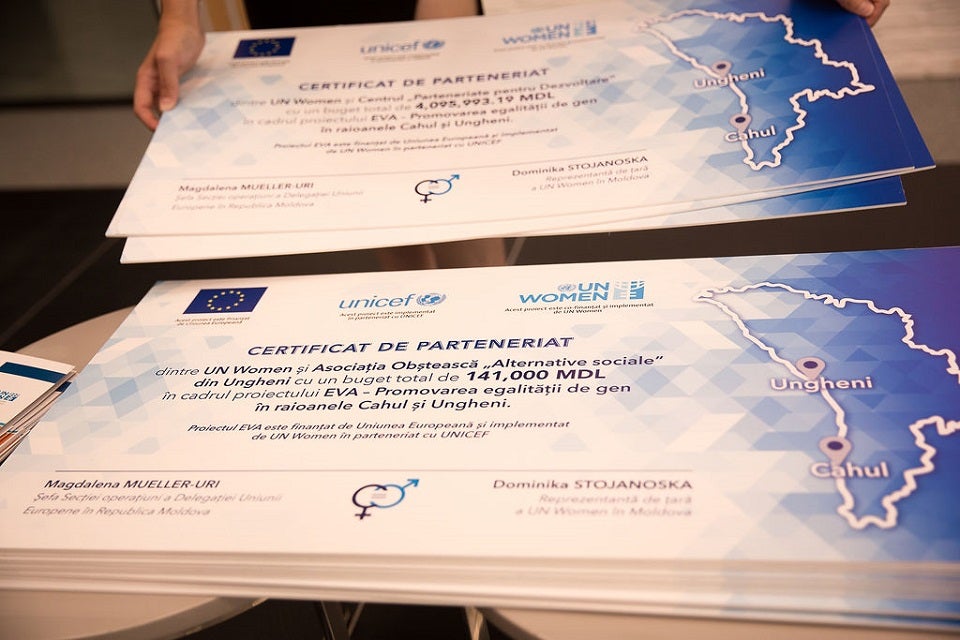 Credit: UN Women Moldova
In December 2020, Memorandums of Partnerships were signed with mayors of 12 settlements from Cahul and Ungheni districts (Cahul, Andrușul de Jos, Larga Nouă, Slobozia Mare, Văleni, Zîrnești, municipiul Ungheni, Pîrlița, Manoilești, Măcărești, Rădenii Vechi, Zagarancea), together with eight civil society organisations to promote gender equality and combat violence against women and children.
Thus, RCTV Memoria, FĂCLIA NGO, CONTACT-Cahul Center , Media Center for Youth, AVE Children  Association, EDUCAT Association, National Center for Child Abuse Prevention (CNPAC/NCCAP), Institute of Mother and Child  are supporting the efforts of these 12 settlements in becoming gender equality champions.
About the EVA project:
In 2020, United Nations Entity for Gender Equality and the Empowerment of Women (UN Women) Moldova, in partnership with United Nations Children's Fund (UNICEF) began implementing the EVA project – 'Strengthened Gender Action in Cahul and Ungheni districts', funded by the European Union. The project has two major objectives: promoting gender equality and women's empowerment by mainstreaming gender in local public policies and by combating domestic violence against women and children. The EVA Project is to be implemented in 24 settlements across Cahul and Ungheni districts until December 2022. 
This press release is launched as part of the EVA project 'Strengthened Gender Action in Cahul and Ungheni districts', funded by the European Union and implemented by UN Women in partnership with UNICEF. Its content is entirely the responsibility of the author and does not necessarily reflect the opinion of the European Union.
Contact data:
Valentina Bordian, EVA Project Communication Officer
Tel. +373 604 25050, email: valentina.bordian@unwomen.org