In the words of Liliana Palihovici: "I want to help Moldovan women be better at political work than I was"
Formerly an MP and deputy speaker in the Moldovan Parliament and vice-president of a political party, Liliana Palihovici founded the Women 4 Leadership Academy in June 2018. Ahead of upcoming elections later this year, the Academy will train 140+ women interested in politics and decision-making in public speaking and organizing effective electoral campaigns. The Women 4 Leadership Academy project was launched by the Moldova civil society organisations (CSOs) Contact-Cahul and Institutum Virtutes Civilis (IVC) in partnership with UN Women Moldova, with financial support from the Swedish Government.
Date: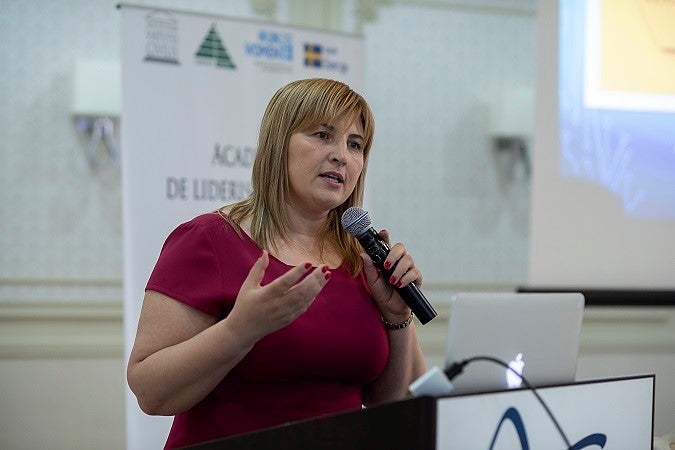 "I faced many challenges in my 10 years of politics: The challenge of being a woman in politics, of not having my ideas and projects understood, of not being supported. I later realized that I could have done much more if I'd been trained beforehand by politically experienced women and men. They could have taught me how to negotiate, how to build an argument, why you need stronger coalitions, how to promote a certain reform or social change. I decided that if I ever had an opportunity to launch a training program for women wishing to participate in decision-making processes, I would do it. I want to help Moldovan women be better at political work than I was, to get more results, to be more visible and better involved in decision-making. Political effectiveness only comes after a lot of learning. The Women 4 Leadership Academy offers women a chance to learn from others' experiences. I am delighted that we have 45 women from across Moldova at the first stage attending and thinking about running in elections. We don't ask them for a firm decision to run before they join our program because many factors influence a woman's decision to run in parliamentary or local elections. One, for example, is if she feels prepared to enter politics. We work to give them that trust and readiness. Knowing how to work on a political speech is also very important. When I entered politics, I was in my early 30s and had no political speaking experience. I vividly remember how I felt when I gave my first speech. I was on a stage near the government building in front of tens of thousands of people. I could not sleep the night before. I went over every word, thinking how it might influence people. I kept thinking: Do I represent people's interests? Will they support me? Do I promote solutions to their daily problems? That's why I want to help the women attending this academy learn how to better understand people's needs, how to convince the electorate to vote a woman into a public office. I hope that through this academy we will have more women in Parliament, and in local and district councils. And if in two or three years women who participated in our academy become MPs, councillors or mayors, I will be happy that we contributed to their success."