The commune of Cruzești has become a second home for Ukrainian refugees. On 14 October, the residents of Cruzești and Ukrainian refugees, along with mayors, representatives of the Parliament of the Republic of Moldova, UN Women Moldova, UNHCR-Moldova and the Congress of Local Authorities of Moldova (CALM), gathered to pay tribute to those who have lost their lives during the war in Ukraine.

Ecaterina Medic is a farmer. For the last 20 years, she has been running an agricultural enterprise and creating jobs for the people from her village Roșcani, in Străseni region. She has planted corn, sunflowers, grape and fruit trees on those 100 hectares of land that she owns.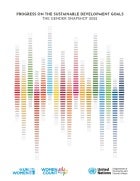 At the current rate of progress, it may take close to 300 years to achieve full gender equality, the Progress on the Sustainable Development Goals (SDG): The Gender Snapshot 2022 shows.