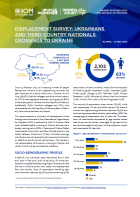 This report presents a summary of displacement survey findings commissioned by the International Organization for Migration (IOM) in partnership with UN Women. Data were collected before crossing to Ukraine at three main border crossing points (BCPs) – Palanca and Tudora (Stefan Voda district in the South) and Otaci (Ocnita district in the North) between 16 April and 27 May.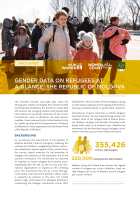 This factsheet provides up-to-date data about the demographic profiles of refugees from Ukraine hosted by the Republic of Moldova.
During the period 5 June 2015 – 5 October 2016, the Association of Independent Press (API) has implemented Mass-media institutions support program in ensuring gender equality within the framework of UN Program "Women in Politics", implemented by the United Nations Entity for Gender Equality and the Empowerment of Women (UN Women), and the United Nations Development Programme (UNDP), in partnership with East Europe Foundation and "Partnership for Development" Centre, financed by the...