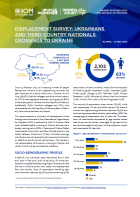 This report presents a summary of displacement survey findings commissioned by the International Organization for Migration (IOM) in partnership with UN Women. Data were collected before crossing to Ukraine at three main border crossing points (BCPs) – Palanca and Tudora (Stefan Voda district in the South) and Otaci (Ocnita district in the North) between 16 April and 27 May.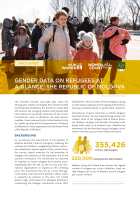 This factsheet provides up-to-date data about the demographic profiles of refugees from Ukraine hosted by the Republic of Moldova.
Gender responsive budgeting (GRB) means gender mainstreaming in the budget process, which involves regular assessment and analysis of the budget impact on women and men, corroborated by the analysis and adjustment of relevant policies to reduce gender disparities. This type of budgeting promotes greater accountability on the performance of governments in using public resources by purpose in correlation with the needs of beneficiaries, women and men, girls and boys, and applies the gender mainstreaming in all public policies in accordance with international treaties and national development strategies.