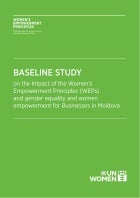 Baseline study on the Impact of the Women's Empowerment Principles (WEPs) and gender equality and women empowerment for Businesses in Moldova
The catalogue brings together 50 women producers from the country and it is a useful and informative source for promoting the business of women producers in the Republic of Moldova, thus stimulating sales as a support measure for them.
Positive Champion - The person who broke the norm and found ways to achieve greater results with the same resources. This term was coined by the women from Moldova who overcame violence and who are helping other women do the same.