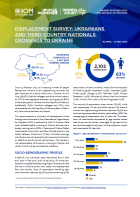 This report presents a summary of displacement survey findings commissioned by the International Organization for Migration (IOM) in partnership with UN Women. Data were collected before crossing to Ukraine at three main border crossing points (BCPs) – Palanca and Tudora (Stefan Voda district in the South) and Otaci (Ocnita district in the North) between 16 April and 27 May.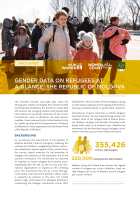 This factsheet provides up-to-date data about the demographic profiles of refugees from Ukraine hosted by the Republic of Moldova.
On the global level, one in three girls will be affected by violence during her lifetime. In the Republic of Moldova, according to the study "Violence against women in the family" (NBS, 2011), 6 out of 10 women faced psychological, physical or sexual violence from their husbands or partners. And because violence is not only women's issue, but of the entire society where this phenomenon exists, in 2019, UN Women Moldova aims to break the most common myths around violence...