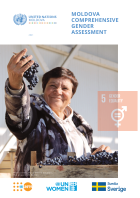 The overall objective of the assessment is to develop a comprehensive assessment of the state of equality between women and men in Moldova in education, health, economic opportunities, and voice and agency.
The study "Services provided to migrant women, especially to returnee women, and the creation of a dialogue platform for migrant women" revealed the following:- Returnees are not acquainted with services available neither how to access them;- Local public authorities and non-governmental organizations are not really acquainted with other services provided at the local level besides their services.
This brief provides guidance on the elaboration of policies, including the effects of migration, on development strategies from gender perspective, and is intended for professionals responsible for implementing diaspora policies in ministries and other central administrative authorities (migration focal points, technical level) concerned by this problem.