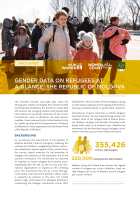 This factsheet provides up-to-date data about the demographic profiles of refugees from Ukraine hosted by the Republic of Moldova.
This simplified version of the Convention on the Elimination of All Forms of Discrimination Against Women (CEDAW) was developed together with survivors of violence from Moldova. The guide contains only some CEDAW articles selected by women survivors of violence and are described from their point of view in order to help other women improve their knowledge and stand for their rights.
This synthesis provides detailed data on the use of time by Moldova's inhabitants: the types of performed activities (What are they doing?), the length of time for these activities (How much time?), as well as the context in which they are made (Where? With whom? For what purposes?).