The catalogue brings together 50 women producers from the country and it is a useful and informative source for promoting the business of women producers in the Republic of Moldova, thus stimulating sales as a support measure for them.
The purpose of this checklist is to provide humanitarian/refugee response actors in the Republic of Moldova with entry points/tips on how to ensure that the needs, priorities and capacities of women, girls, men and boys are considered in all aspects of humanitarian/refugee response.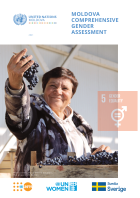 The overall objective of the assessment is to develop a comprehensive assessment of the state of equality between women and men in Moldova in education, health, economic opportunities, and voice and agency.