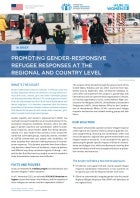 The project will promote a gender-sensitive refugee response at the regional and country levels by advancing gender-sensitive programming, financing and coordination within and across UN agencies, regional inter-governmental bodies and refugee-response structures. It will accomplish this goal by addressing the gender-specific impacts of Ukraine's humanitarian and refugee crisis while simultaneously ensuring that women and those at risk have strengthened access to protection services and resources.
The purpose of this checklist is to provide humanitarian/refugee response actors in the Republic of Moldova with entry points/tips on how to ensure that the needs, priorities and capacities of women, girls, men and boys are considered in all aspects of humanitarian/refugee response.
Based on preliminary data collection (a series of UN Women surveys) and meetings that UN Women had with women-led organizations in Moldova, the ongoing crisis is creating and exacerbating gender-specific risks and vulnerabilities and is resulting in higher scale of humanitarian needs among women, girls, men and boys.