The purpose of this checklist is to provide humanitarian/refugee response actors in the Republic of Moldova with entry points/tips on how to ensure that the needs, priorities and capacities of women, girls, men and boys are considered in all aspects of humanitarian/refugee response.
Based on preliminary data collection (a series of UN Women surveys) and meetings that UN Women had with women-led organizations in Moldova, the ongoing crisis is creating and exacerbating gender-specific risks and vulnerabilities and is resulting in higher scale of humanitarian needs among women, girls, men and boys.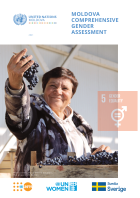 The overall objective of the assessment is to develop a comprehensive assessment of the state of equality between women and men in Moldova in education, health, economic opportunities, and voice and agency.