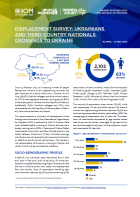 This report presents a summary of displacement survey findings commissioned by the International Organization for Migration (IOM) in partnership with UN Women. Data were collected before crossing to Ukraine at three main border crossing points (BCPs) – Palanca and Tudora (Stefan Voda district in the South) and Otaci (Ocnita district in the North) between 16 April and 27 May.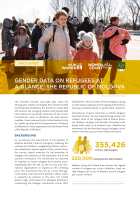 This factsheet provides up-to-date data about the demographic profiles of refugees from Ukraine hosted by the Republic of Moldova.
This synthesis provides detailed data on the use of time by Moldova's inhabitants: the types of performed activities (What are they doing?), the length of time for these activities (How much time?), as well as the context in which they are made (Where? With whom? For what purposes?).