Brief analysis on the gendered impacts of the crisis in Ukraine: a focus on Moldova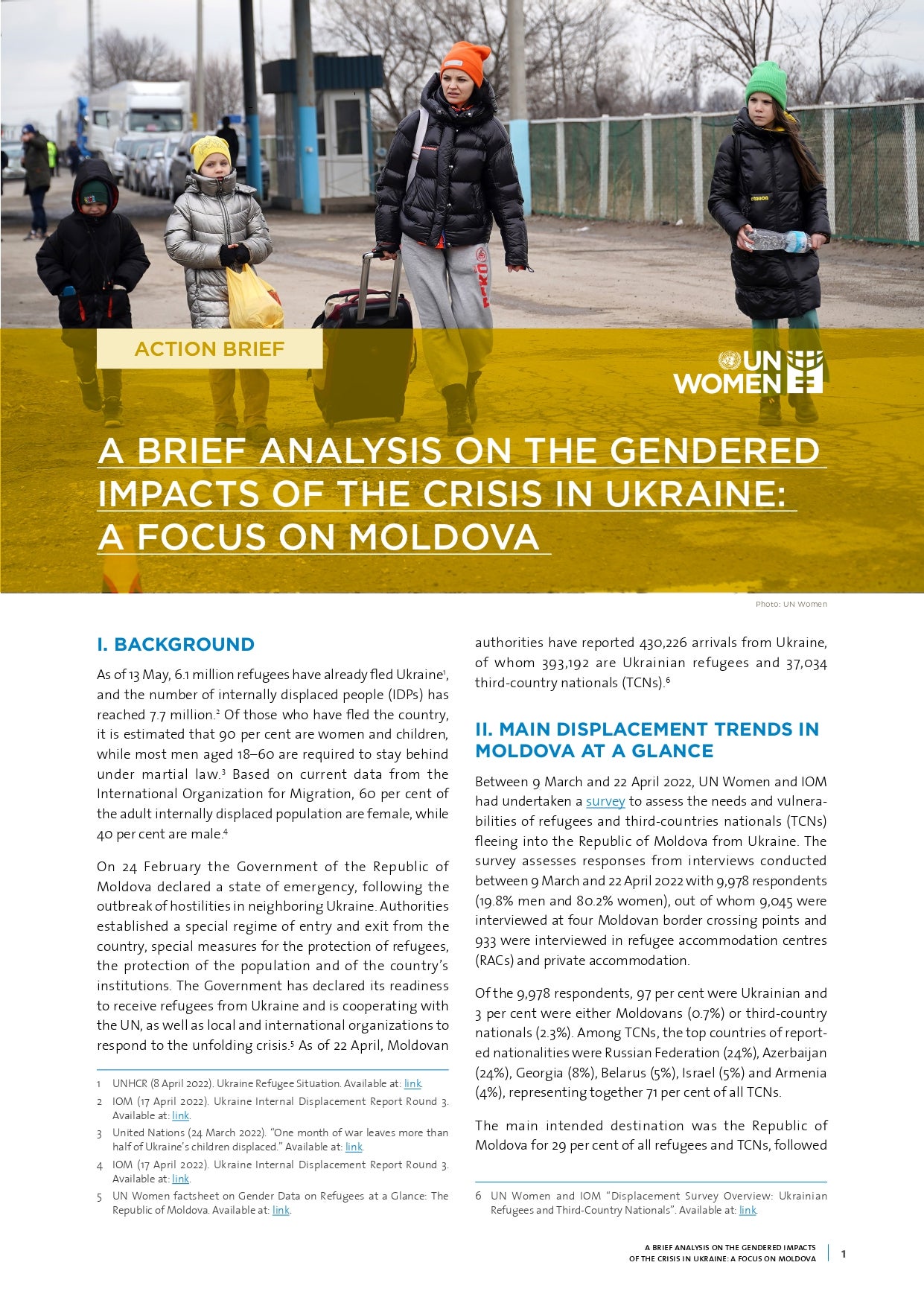 Based on preliminary data collection (a series of UN Women surveys) and meetings that UN Women had with women-led organizations in Moldova, the ongoing crisis is creating and exacerbating gender-specific risks and vulnerabilities and is resulting in higher scale of humanitarian needs among women, girls, men and boys.
Access to food remains as a priority, particularly for refugees living in private accommodation. Women emphasize the need for food security support that fits the nutritional needs of different family members including pregnant and lactating women, women and girls with disabilities, the older people and children. Access to primary, secondary and tertiary health care services remains a challenge particularly for women refugees with chronic diseases (diabetes, epilepsy, etc.) and women cancer patients and survivors.
Refugee and displaced women's and children's access to mental health and psychosocial support (MHPSS) remains limited. Displaced and refugee women have also reported the need for non-food items (NFIs) and dignity/hygiene kits that are gender and age sensitive and consider the needs of all, including female adolescents. The vast majority of refugees are women and children due to the Ukrainian authorities´ ban on men to flee, which increases the risks of gender related protection concerns. Domestic violence is widespread regionally and in Moldova. It is well known that conflict and displacement are main drivers for increasing the incidence of gender-based violence (GBV), particularly domestic violence and conflict-related sexual violence. Risks of trafficking remain high.
Overall, service providers and early responders, such as RACs teams, must be trained on quality multisectoral and gender responsive services. Offering those services requires offering trainings on gender concepts, GBV detection, GBV case management and referral pathways, child protection, structured psychosocial assistance among others. GBV and protection from sexual exploitation, abuse and harassment (PSEAH) trainings are already ongoing, while the development of tailored capacity building on gender in humanitarian action by the Gender Task Force (GTF) is underway. Setting GBV protocols and standard operating procedures is also being developed by the GBV sub-working group.
View online/download
Bibliographic information
UN Women office publishing: Moldova Country Office